For this week's New York Night Train show list go here. For information about the venues go here. Click the names in bold to learn more about the artists.
Recommendations for Tuesday, April 4, 2006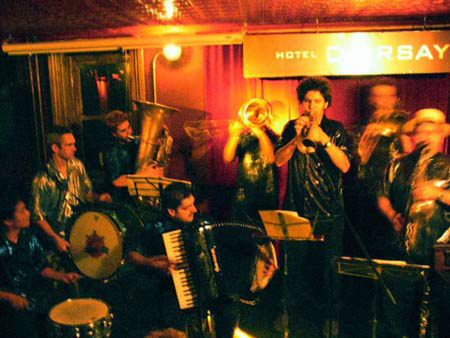 Slavic Soul Party at Barbes

Slavic Soul Party – Barbes $8
If you're one of those who agrees that some of the better-known indie bands playing tonight range from over-rated to just plain annoying, you may wanna take a breif detour around the rock world and go international tonight. Matt Moran's twelve piece Slavic Soul Party is brass band that's been shaking 'em down around Brooklyn for some time. In addition to their fine musicianship and high energy level, this band's strongsuit is their inclusiveness - you'll find no shortage of jazz (they do a mean version of late-period Ellington's "Blue Pepper") or funk or Eastern music - and I'm not merely refering to the Eastern European genres that their name implies, but serious forrays into the sounds of South and East Asia. Their crowd tends to be from backgrounds as diverse as the bandmembers themselves - a Booklypolitan mix of foreign and domestic. Chances are, as the night builds, you'll be in for a pretty wild and woolly dance party.
If you're still not convinced, their website offers a generous sampling of what they do.
Also recommended:
Art Brut, The Ponys, Bling Kong - Bowery Ballroom $15
The Blue Van, Eiffel Tower, Head Like A Kite, Graham Smith of Kleenex Girl Wonder – Northsix $10
Brad Shepik Trio – Tonic 10PM $10
Burt Bacharach – BB King Blues Club $75
Doveman – The Stone 8PM, $10
Indra – The Stone 10PM, $10
Taylor Haskins Quintet – Tonic 8PM $10
Go to NYNT's Live Archive here.
© New York Night Train , 2006