Thursday, July 27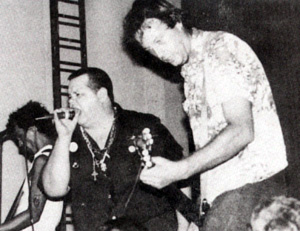 Dot Dash Year IV: The Dicks, Marked Men, Carbonas, Pissed Jesus, Live Fast Die – Southpaw $17
OK, there's lots of amazing stuff tonight. I particularly regret missing Danava both nights, but, when your favorite punk band of all time reunites, and they come to your town, and they're amazing the first night, there's not a whole heck of a lot to do but tell everybody to go again.
The Dicks, who I went on and on (and on) about yesterday (go here), played Maxwell's last night and were incredible. The band's guitarist was none-other than legendary Hickoids axeman Davy Jones filling the giant void left by Glen Taylor (R.I.P.). Sans this exception, it was the entirety of the original band – Gary Floyd, Buxf Parrot, and Pat Deason. Though the guitarist situation was a point of anxiety for me before I saw 'em play, Davy was smart –playing in a Glen-ish style – without trying to replicate the solos (a losing battle)… and he came out smelling like a stinky Texas rose. The rest of the cast was everything you'd've expected and more.
They meandered into "Kill From the Heart" but, by the end of the song, and particularly when they went into the second one, "Lifetime Problems," it was pure relentless fire from their on out. They did all material from the early Austin Dicks – no new songs and nothing from their San Francisco period… and managed to play most of the songs from the single, Live at Raul's and Kill From the Heart… hit after hit after hit. Though they probably played fifteen songs it was all too short for me.
I don't know if this is the type of thing you'll ever get to see again or not. It seems to be working well for them and I certainly hope they stick it out. But my advice is to catch 'em while ya can because, up to this point, it's only a twice-in-a-lifetime opportunity. And it's from the heart…
They're playing in Park Slope on the first night of the fourth annual Dot Dash Festival with The Marked Men, The Carbonas, Pissed Jeans, and Live Fast Die.
MEDIA
Hate the Police
Rich Daddy
Dead in a Motel Room
Shit Fool
You can also nab "Lifetime Problems" and "Saturday Night at the Bookstore" on their myspace page.
ALSO TONIGHT:
Aa, Jean Smith (Mecca Normal), Inconvenient Music: Mark Howell & Rick Brown – Tonic 10PM $8
Brand New - Webster Hall $18/$20 SOLD OUT
Danava, Snow Foxxes - Union Pool
Los Ciegos del Barrio Merengue/Bachata/Boler – El Museo de Barrio
Danava, Snow Foxxes – Union Pool (toddpnyc.com)
Don Byron Quartet – Jazz Standard $30
Dracula w/Philip Glass and Kronos Quartet, Slavic Soul Party – Prospect Park Bandshell FREE
Grand Master Flash & DJ Camilo & Lucho & Shadee –Cro Bar $20/$30
Lions & Tigers, RJR, Danava, Snow Foxxes, Jacob Morris Union Pool $7
Pela, Human Television, The Diableros, Project Jenny Project - Mercury Lounge
scanner + evidence w/ diana slattery – ISSUE Project ROOM $10
Smokey Hormel's Western Band – Tonic 8PM $8
The Black Hollies, The Choke, Houston McCoy – The Cake Shop
The Hold Steady - Castle Clinton FREE
The Long Blondes, Cause Co-Motion!, Think About Life - Knitting Factory Main Space $10/$10
The Ornate Surface of Charlie Looker – The Stone 10PM $10
The Pavone Show – The Stone 8PM $10
The Pretenders - Roseland Ballroom $50
The Spinners - Metrotech Commons NOON FREE
Vaughn Montgomery, Robert Stillman's Horses, Dan Weiss, Lymph Hockey Ensemble – Cake Shop $5