August 15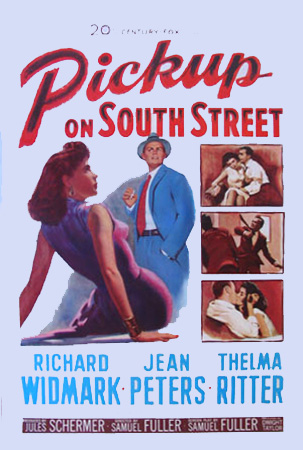 "Pickup on South Street" - Elevated Acre at 55 Water St 7:30 PM FREE
Because there're so many good bands playing tonight, I really feel lousy recommending a movie instead of a show. But hey, how would you feel if you only had to talk about bands all the time? I've got a little more going than that. Plus, the movie, Pickup On South Street, is authored by one of my favorite indie rock stars of all time, Samuel Fuller... and, if you've never seen it before or, if you're like me and seen it quite a few times, this is an uncommon opportunity to see the film in its own geographical setting.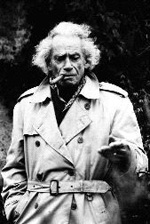 As Mickey Spillane's obituary found it's way here because he was a crude "undeniably a distinct sylist" whose work shocked the establishment but sold enormously well (he could've also been a gangster rapper), Samuel Fuller is being awarded space here for his self-taught D.I.Y. style that was perfected into a masterful individuality. Sam Fuller came up through newspapers to direct B-movies with absolutely no budget, no experience, and no prior knowledge of the technical aspects of his new trade. Since you couldn't go to film school back then, Fuller's student movie of sorts, I Shot Jesse James (1949), was commercially released, and, because it was made for peanuts, cleared a giant profit on the B-circuit. I Shot Jesse James is particularly notable for its Theodor Dreyer Passion of Joan of Arc-style close-ups. Like a freshman indie rocker's debut album, Fuller's Jesse James was his most naïve, yet most stylized work. He then did another western, then one of the best and most unusual war movies of all-time, Steel Helmet (1951), and a nostalgic portrait of the early days of New York's daily papers that was both his most ambitious effort and biggest flop, Park Row (1952). By this point, Fuller's work was marked by atypical montages, overcooked performances, and odd psychological tension. Not everyone's cup of tea, but quite perfect for his first film noir…
Pickup On South Street. This my absolute favorite Fuller flick, above Underworld USA (1961), Shock Corridor (1963), orThe Naked Kiss (1964). Not only is it one of the most fascinating portraits of the lost underbelly of the post-War New York, and raw shadowy eye-candy, but, for all of it's the characters' almost Brechtian two-dimensionality, contains no shortage of philosophical ambiguity.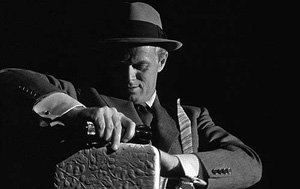 The protagonist, a hardboiled pickpocket played by the incomparable Richard Widmark, is a loner that lives in a shack above the water not far from the location where they will screen tonight's movie. He walks a swinging plank stretching over the water to access it. He pulls a rope from the East River and up comes a crate in which he keeps his beer cold. If you haven't romanticized that specific type of bachelor lifestyle I doubt we have much in common.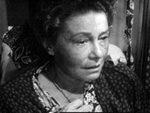 Another true American original, Thelma Ritter, pulls off yet another stellar performance as a stool pigeon with a heart. There's also of course the femme fatale, communist spies, an assortment of stereotypical cops (the good, the bad, and the incompetent), lowlifes, and, one of the best cameo characters in cinema history, Lightning Louie - a heavy set man in a suit in the corner of an old-school chow mein joint who devours a constant stream of noodles with the very chopsticks that he uses to pocket the bribe money.
This is one of those stories where the tough guy accidentally winds up with something very valuable – in this case Communist microfilm. The resulting narrative is a true popcorn chomper involving a combination of obvious and unexpected twists and turns. Beneath it though, dozens of moral plays are enacted on top of one another – once again in both the most blatant and subtle of fashions. Like the best rock'n'roll it walks the line between artifice and authenticity while remaining both exciting and deep.
You'll never look at the waterway as you did before…
ALSO:
Cartoon Satellite – The Stone 10PM $10
Charlie Haden Quartet West - Blue Note $35
Effi Briest, Entrance, Rusty Santos, Legends - Cake Shop $8
Jolly Shop Whizz Bang – Union Pool
Jordan McLean – The Stone 8PM $10
Magic Juan - Highbridge Park 7PM FREE
Mingus Big Band – The Iridium $25
Morex Optimo, Room, Zoe Bonham, The Love Story - Sin-E $8
Okkyung Lee with Peter Evans & Anthony Burr, Alan Licht, Okkyung Lee & Matt Heyner – Tonic $10
Sakésho with Andy Narell – Lincoln Center North Plaza 6:30 PM FREE
Slavic Soul – Barbes $8
Tam, Used To Be Women, Little Claw, Bad Apples, Gerudo - Trash $6
The Manhattans - Queensbridge Park 7PM FREE