August 24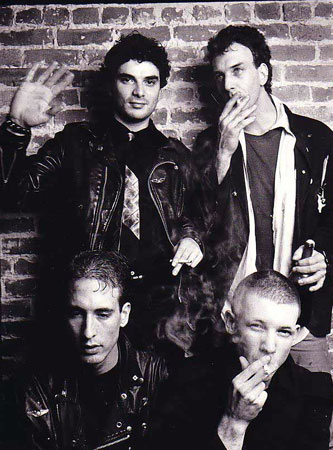 Flipper, Pissed Jeans, The Shemps, Deathcycle - Northsix $10
Wow, yet another Flipper reunion. They were slower, dirtier, and artier than just about any other band of the hardcore era. They weren't quite the skuzziest but also excelled in that department.
Their albums were unreal. You should give debut, Generic Flipper, another listen, it's still one of the best-conceived cynical statements on the contemporary condition I can think of – in any genre... a grimy portrait of the void in all of its dissonant glory. Which isn't to say it's not incredibly fun. Not only am I pretty positive that I've never heard a hardcore era song covered as much as "Sex Bomb" over the years, but I think it may just be the ultimate relic of the era – offering an alternative vision to the fast-and-loud scene that was developing at the time, making punks shake it down, and informing a whole wave of bands that would soon make that scene obsolete. Then there's the stellar single "Ha Ha Ha," which, via Let Them Eat Jelly Beans, was, along with thousands of other Reagan-era kids, my intro to the band. Their catalog also includes two fine full lengths - the infamous Blowin' Chunks tape (I think that was cassette only for over a decade) and Gone Fishin'. Because Johnny Rotten stole their shtick on Public Image's Generic album, Flipper responded with the live Public Flipper Limited collection. Rick Ruben, who was playing in Flipper rip-off bands long before he ever turned a knob, now owns the rights to these recordings. So maybe you'll see 'em in fancy box sets or something one day? Maybe that already exists?
Flipper's recordings aren't all that we now have to remember 'em by as Flipper has reunited once again. The comeback in the early 1990s, in general, wasn't half bad, and, as far as reunions go, excellent. Of course bassist/singer Will Shatter, who died of an overdose, will be absent once again, as will his replacement John Dougherty (also died of overdose), but his partner in crime, singer/bassist Bruce Lose, guitarist Ted Falconi, and drummer Steve DePace will all be assembled. Bruno DeSmartass, who played guitar in Polkacide and lots of other SF bands, and subbed for Shatter in the early 1980s, will be filling in on bass. Pray for him
While the chances of getting those legendary misanthropic forty-five minute noise songs instead of a real set are fairly slim in this day and age. Contemporary "punk," with its lack of freakishness, mistakes, or spontaneity, could use a little refresher course in loose old-school nihilist noise attitude... What am I talking about? Its probably better that they don't know.
ALSO:
aki onda/alan licht, the volt collective – ISSUE Project Room $10
Beat Circus, Brian Dewan, Alec K. Redfearn & the Eyesores – Tonic 8PMM $10
Cherrelle - Pier 17, South Street Seaport 7PM FREE
Corinne Bailey Rae, Freddie Jackson, Joe – City Hall Park 5PM FREE
Diamanda Galas -Heaven Have Mercy – Spiegeltent 6PM $30
Digable Planets, Sa-Ra Creative Partners
Dwele - Marcus Garvey Park 7PM FREE
Eric McPherson – The Stone 10PM $10
Flying, Limbs, Proton Proton, Blue Pages, Sad Red - Pianos $8
Hiro Ballroom at The Maritime Hotel
Juan Maclean, Peter Makebish, Alex English -
My Brightest Diamond CD Release Party – Spiegeltent 10PM
Neko Case, Joanna Newsom, Martha Wainwright - McCarren Park Pool 5PM $32.50
Oscar Peterson – Birdland $75-$100 (!!!)
Refosco and Friends – The Stone 8PM $10
Salsa by the Sea: Victor Manuelle and Ivy Queen – Asse Levy Park 7:30PM FREE
The Clusters - George Seuffert Bandshell, Forest Park 7:30PM FREE
TK Webb, Lights, Magdyn Osh - Pete's Candy Store FREE
Trance Music Ensemble – Lincoln Center North Plaza 5PM FREE
Urban Barnyard, Schwervon!, A Brief View of the Hudson, Rawles Balls – Cake Shop $3
Walter 'Wolfman' Washington & the Roadmasters - Lion's Den $8
Wayne Krantz - 55 Bar