August 26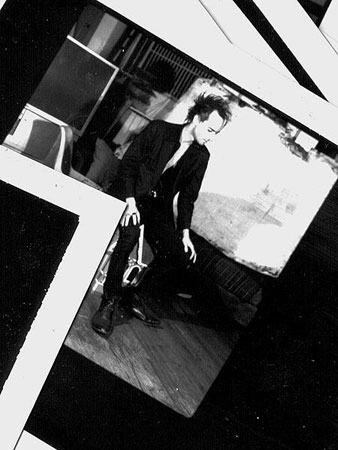 esqueleto muchacho
Oneida, Black Dice - Studio B $8
The Double, Blood on the Wall, Damon McMahon - 3rd Ward $10
Flipper, Suicide King, Skeleton Boy – Club Midway
Red Sparowes, Daughters, Versoma - Mercury Lounge $12
What a night for offbeat late night shows at unusual venues….
The first and earliest event consists of two of Brooklyn's most consistently unpredictable acts, Black Dice and Oneida. While neither of these spectacular trios (both former quartets) require an introduction to readers of this zine, the venue, however, does: Studio B, formerly the Polish hotspots Pulse Nightclub., Klub Ice, and Klub Hypnotik, with the fabled trapezoidal door, is located at at 259 Banker St. Click for directions. Or got to Todd P's site for more info. DJs curated by Justine D and Dan Selzer spin until late. Speaking of which….

The second show, courtesy of by Casey of Ultra Productions, consists of Matador's The Double, the very rocking Blood on the Wall, the very talented Damon McMahon (of Inouk, with a new solo album on Astralwerks), and a slew of DJ's. Getting going fairly early, they plan on rocking the party until long past the crack of dawn. It takes place at 3rd Ward, a gigantic performance space in East Williamsburg off of the Grand stop at 195 Morgan Ave.

The biggest surprise of all though is the no-longer-so-secret last-minute show by Flipper in the basement of Club Midway. You can go here to read why I think Flipper is one of the more important bands of the 1980s. And I can't think of a better atmosphere to see 'em than a basement in the middle of the night… Except for an East Williamsburg warehouse of course… The newish Club Midway is on Avenue B between 2nd and 3rd, the site of the former Scenic.
Finally, while nowhere funky, but at the old standby Mercury Lounge, but still worthy of mention is LA's Red Sparowes, a cinematic instrumental band featuring Neurosis' projectionist, Angel Hair's guitarist, Pleasure Forever's drummer, and, for this tour only, Trevor de Brauw of Pelican.
ALSO:
Adam Levy's Nice Place to Visit – Tonic 8PM $10
Aloha, Rahim, Jennifer O'Connor - Northsix $10
Asobi Seksu - Soundfix Records 4PM FREE
Athletic Automaton, Man in Gray, Made in Mexico+White Mice, ADD, Dirty Magazine Asterisk Art Space 8PM $6
Beach Boys - North Fork Theatre, Westbury Music Fair $57-$62
Benefit Celebration: DJ Spooky, Style Wars, Agora II - McCarren Park Pool 5PM $10
Charlie Parker Jazz Festival: Chico Hamilton, George Coleman, Sonny Fortune Quartet, Greg Osby – Marcus Garvey Park 3PM FREE
DJ Party: Anujia, Zebrablood, Beekepers – Cake Shop FREE
Eskimobot – Tonic 11PM $5
Hardedge – The Stone 8PM $10
Here and Now Orkestra – The Stone 10PM $10
John Kelly, Carol Lipnik – Spiegeltent 6PM $15
John Moran...and his neighbor, Saori – Tonic 9:30 PM $8
La Casita: A Home for the Heart; Ishmael Reed, Yunghen Lhamo, Abdou Mboup, Monika Jalili: NoorSaaz, Morley, Semilla, Zemog El Gallo Bueno, Zeybra, Elegua Grupo Musical Femenino, Roger Bonair Agard, Samba School for Social Justice, Alma Moyo, Victor Hernández Cruz, Los Juglares, U K'ayil-Kah, Ilu Aye, Imani Uzuri, Gazpacho Andalú, Matices Andinos, Mark Gonzalez – Lincoln Center North Plaza 2PM FREE
Marjorie Elliot - Morris-Jumel Masnion (Roger Morris Park - 65 Jumel Terrace at 160th St.) 2PM FREE
Oscar Peterson – Birdland $75-$100 (!!!)
Rude Mechanical Orchestra - Washington Square Park Noon FREE
Rumbler's Car Show w/The Casket Draggers, Full Blown Cherry, The Slanderin, The Nailers, Three Blue Teardrops, Toothless George – Union Pool NOON $20
Slavic Soul Party – Spiegelten 2PM
Steve Antonakos Band – 9th Street Community Garden 2PM FREE
Talib Kweli, Jean Grae - – City Hall Park 5PM FREE
The Marc Cary Trio, Mike Stern, Joe Lovano, Roy Haynes – City Hall Park 1PM FREE
Tortured Soul, Rich Medina – Spiegeltent MIDNIGHT $20