Septemeber 3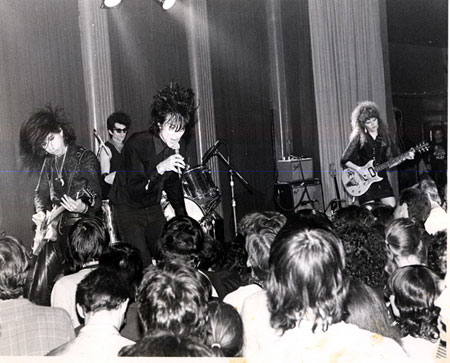 Spank Rock, Gang Gang Dance, Shy Child - McCarren Park Pool FREE
Anyone who reads this knows that I'm already out the door to McCarren Park Pool. After all of this nasty weather, there's can't be a better way to mourn the impending faux pax of next week's white shoes than the ultimate pool party of the summer. Spank Rock are of course the art damaged Baltimore/Philly booty bass duo whose hedonistic jams've become bonafide party anthems on both sides the Atlantic this year. Gang Gang Dance, who've, in a couple of short years, come to define the new underground and its dedication to elegantly combining rhythmic world sources and avant weirdness, are apparently going through a reggaeton phase of sorts – which, in addition to sharing the same management, makes them entirely appropriate for this bill. Finally Shy Child, the veteran band here, are the uncommonly musical synth/drums duo who are equally useful for both deep listening and dancing.
Tonight, one of the best bands of all time, The Cramps, will be playing the anniversary of one of New York's more fun rock parties, Motherf*cker. If that's a little steep for you, still-super group Shellac rarely appears these days and I can't imagine them losing an ounce of their power. The Japanese Music New Music Festival combines Tatsuya Yoshida, Acid Mothers Temple, and their many challenging side-projects. How could I pick for you? Particularly considering that others who might've gotten the sole pick on any other night, the return of pioneering Gothic Goddess Lene Lovich, celebrity DJ, rave relic, and tooth-jewelry icon Goldie, and finally, the band that marked the end of the tail end of the hardcore era in New York, Gorilla Biscuits, reuniting mark the end of the thirty-plus year era of CBGB.
Maybe you should just spend all of your money on cabs, door, and gin and tonics and try to do it all?
Pool ho!
ALSO:
Drop Dead Festival featuring Lene Lovich and many more – Knitting Factory $25/$30
Goldie – The Hook $25
Gorilla Biscuits - CBGB
Jorge Continentino'x Sonic Sweat Shop (Mauro Refosco, Gilmar Gomes and Davi Vieira)– The Stone 8 & 10PM $10
Mono, Fridge, Tarentel - Bowery Ballroom $16
Motherf*cker Anniversary with The Cramps – Avalon $30
Shellac, Uzeda - Club Europa $15
Japanese Music Fest featuring: Acid Mothers Temple SWR, Ruins Alone, Akaten, Zoffy, Zubi Zuva X, Seikazoku, Shrinp Wark, Ronruins - Northsix $15
Uncle John, Whitelock, Dead Elephant Tracks, Badman Music – Cake Shop