DIMESTORE ENSEMBLE
(DIMESTORE DANCE BAND)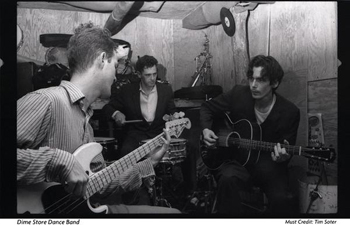 DDB are a jazz band, but their approach is more punk rock and more compositional then the standard head-head improvising. Think Eric Satie vignettes sandblasted with Django Reinhardt brio and Mark Ribot skronk.
- Village Voice
Dimestore Danceband (2001-present): New York trio plus wildcard melodicists, named in honor of former-day swing combos who inked prime quality retail endorsements (Montgomery Ward, Beall's, Meyer Meyers, FAO Schwarz, etc.). With their spirited blend of 1940s small combo stratagems, post-bop stumbling struts, and Ivesian ethereal flights, the group is keen and confident of just such an endorsement on their horizon.
The original Dimestore Danceband was born of remnant stepchild songs from six-string bandit Jack Martin's days in the Knoxville Girls. Hired to provide cocktail music, Paterson's own Martin literally collared enfant violiste (and Montclair native) Dylan Willemsa on the street and pressed him into service. To such fruitful ends that the fledgling duo grew into a full bore quartet, finally settling in with the grits-and-gravy rhythm section of J. Scott Jarvis (drummage/cowbell) and Jude Webre (Fenderbass/bass violin) in the fall of 2002.* Since then, the group has been performing around New York, at varied venues In the wake of Willemsa's recent abduction by Czech agents, the remaining trio has also begun to bring in guest soloists- the likes of Doug Wieselman, Ezekial Healey, and Meredith Yayanos.
The enemy of the Danceband ethos is polite trad formalism. No transcriptions are allowed, while stolen melodic fragments are encouraged. Rework the calculations. See, the secret about "oldtimey jazz music" is that they played hard, they fucked it up, and they pushed into the future. Though the Danceband draws on the venerable influences of Jelly Roll Morton, Charlie Christian, and Thelonious Monk, their music exists to be formed and informed by present day folks using their earful talents. As a result, strains of Satie, Schnittke, Barney Bigard, Mal Waldron, the basement tapes, Hubert Sumlin, Mike Watt, the Lounge Lizards, Albert Ayler, and Alvarius B are folded into the mix. Musical pastiche is a dangerous proposition to be sure, with many Countrytime casualties along the way. But craftworthy care can create a living response to the streams of jazz and roots music without too much stuffy veneration or scorekeeping. The connection of instrument to ear is simple, with few theories needed. Just listen.
*Official music credentials: Jack Martin Knoxville Girls, Honeymoon Killers, the world of Kid Congo, Cause for Applause, Stuart Lupton, half a cigarette in the Yeah Yeah Yeahs. Dylan Willemsa Nina Nastasia, Daniel Carter, Ionsports, Julliard, Halo on Xbox, L-Train gold medalist. Jude Webre The Places, Cosmos Group, MF Doom, Bing Ra, patience and fortitude. J Scott Jarvis (LowerEastSide certified legend) The Workdogs, Mo Tucker, Half Japanese, Julee Cruise, Panther Burns, Beastie Boys?
"Dimestore Dance Band is where guitarist Jack Martin gets his early 20th century jones sorted out (Django, Charlie Christian et al.) and with some style, too. His instrumental band usually features violist Dylan Willema, but tonight Doug Wieselman's clarinet takes that role"
Time Out Ny, 2004-03-07
"Guitarist Jack Martin's gypsy jazz quartet is hard to categorize because technically DDB are a jazz band, but their approach is more punk rock and more compositional then the standard head-head improvising. Think Eric Satie vignettes sandblasted with Django Reinhardt brio and Mark Ribot skronk. Tonight clarinetist Doug Weiselman sits in."
(BOSLER) Village Voice, 2004-03-07
"Reliably unpredicable guitar slinger Jack Martin's old-timey instrumental band evokes catchy Erik Satie ragtime, spooky Django Reinhardt gypsy jazz along with the wit and dazzling virtuosity of Matt Munisteri's Brock Mumford."
a.young (TRIFECTA.com), 2004-03-07
"Reliably unpredictable guitarist Jack Martin — this generation's Hubert Sumlin — leads this completely unique unit. All instrumental. Imagine early Erik Satie ragtime hits played by a 1920s acoustic speakeasy band with echoes of Django Reinhardt gypsy melodies and Charlie Christian jazz lead lines."
TRIFECTA.com 2003-11-02
"The exotic Dimestore Dance Band is where ace guitarist Jack Martin exorcises his gypsy soul. With nuanced violist Dylan Willemsa as his melodic foil, it can't go wrong"
Time Out Ny
"Dimestore Dance Ensemble is more Django Reinhardt/Stefane Grappelli than Jagger/Richards, Spencer/ Bauer or Abbott/Costello and that's a good thing."
BOB BERT (BBGUN)
"Jack Martin's Dimestore Dance Band is sophisticated without being pretentious, gritty without being coarse. Carnival rhythms, dance floor sways, swirls of midnight swampy razmatazz, via the background lilts of exquisite violins, guitars, drum brushes evokes a feeling of yesteryear; Django Reinhardt slipping through the back door to give this magnificent ensemble of exceptional musicians a listen. Jack martin is one of the finest guitar players around, so try to catch this band in your town soon. Even though this CD is self produced and a label hasn't picked it up (yet), it is my choice for pick of the year."
Linda Wolfe, BB Gun