June 2006: SPOTLIGHT ON...
GRAND MAL
The Gospel According to Bill...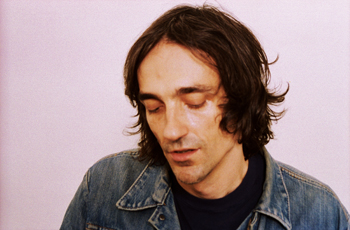 INTRODUCTION
While I was helping Grand Mal's Bill Whitten make a web site, I couldn't help but notice that his prose is almost as masterful as his songwriting skills. His in-depth bio made for some excellent reading and some stellar listening. I've decided to share a preview of Bill's story and accompanying music before it finds its permanent home on his site...
Grand Mal is the moniker for the prolific post-St. Johnny project of one of my favorite songwriters, Bill Whitten. The last decade or so he's been throwing down album after album of serious language and heavy duty rock'n'roll that, when compiled, reads like a classic existential novel of self-destruction, betrayal, alienation, and, particularly of late, redemption. Don't get me wrong, it ain't all that bleak. His tales are always told with no shortage of wit and are often nostalgic, hedonistic, or romantic in other ways. Like Richard Hell, Dennis Johnson, Lou Reed, Hubert Selby, Jim Carroll, and others who have succeeded in mapping similar territory, Whitten's subjects tend to be figures from the underside of contemporary urban life, but are increasingly of a more universal nature. His approach varies - from dry and subtle to exaggerated and satirical to highly personal and melodramatic. These narratives are typically d elivered on top of tastefully-composed concise songs that, over time, have evolved from dissonant fuzz to technological glam to classic r'n'r to his current more sophisticated somewhat chamber-pop model. As you'll see by the audio samples, despite Bill's restless stylistic shifts and tendency towards experimentation, he retains a very distinct, inimitable sound and general aesthetic.
After St. Johnny, who Sonic Youth signed to Geffen, imploded in 1995, Whitten high-tailed it to NYC and created Grand Mal. He continued to record with St. Johnny producer Dave Fridmann (Mercury Rev, Flaming Lips, etc.), on a couple of landmark indie rock records for No. 6. Soon he got swiped up by Slash/London and wound up mostly working the UK, as Maledictions (1999) was stuck in a corporate legal tar pit as Seagram's purchased Slash/London's parent company PolyGram and soon sold it to Universal Entertainment. Not long after the label dissolved for good, Arena Rock Recording Co released the hyper r'n'r Bad Timing in 2003 (featuring multi-instrumental tracks by the Flaming Lips' Stephen Drozd). Though the press in particular loved the album, Bill soon found it difficult keeping a steady lineup together. He did however take advantage of the free-time - realizing some of the best songs of his career at home with musician friends like longtime Mal drummer Paker Kindred (current Antony and the Johnsons, Adam Green, etc.), Joan Wasser (Joan as Policewoman), plus members of Hopewell, The Fame, The Silent League, and many more. In his words:
This is one of the luxuries you have when you have no label, no band, no manager, no lawyer, no budget, no fans, and no time limit. You can pull back and return to the drawing board; you can call for an aesthetic do-over.
The first Grand Mal recording not co-produced and engineered by Dave Fridmann, Love Is The Best Con In Town was however "mastered by the master himself" at Tarbox Road Studio. The piano-based LP is more stripped down and less bombastic than previous Grand Mal efforts – he was aiming at a collision of "early Todd Rundgren, Holland-era Beach Boys, Hunky Dory, and the laid back swagger of classic Grand Mal-style r'n'r" - and succeeded quite well.
Bill gave me a copy of the demos and I wound up listening to them over and over on an overseas flight, and, when I launched the New York Night Train label, immediately begged Bill to let me put it out. What makes me even more biased is that I actually did about five years in the band (1998 - 2003). I of course don't care. The reason that I both write about, and now put out, music, is to try to get people hip to my favorite stuff. And that of course includes many of my friends' bands. And I see no conflict in the fact that Bill is one of my best friends and his is one of my favorite bands - it somehow makes all of this even more worthwhile to me and is what this site and my label are all about.
So enjoy. I hope you wind up as into Bill and his Grand Mal project as I am.
If you're interested in checking the Mal out soon, Whitten has also assembled an impressive new incarnation with members of New York up-and-comers like The Silent League, Great Lakes, Mason Dixon, and Stars Like Fleas. They play out quite regularly. Also, if you want to get a copy of the new record, you can order it here.
Continue to Part 1 of Bill's memoirs
Go to NYNT's Grand Mal feature home page