September 2006: SPOTLIGHT ON...
B.B. BLUNDER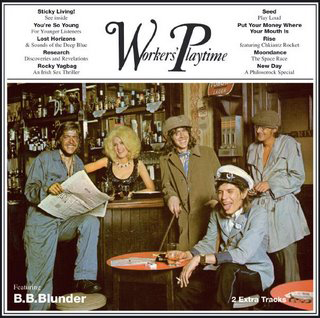 GRAND MAL'S BILL WHITTEN AND JAMES BEAUDREAU TALK TO BRITISH GUITAR LEGEND BRIAN GODDING ABOUT THE LOST CLASSIC WORKER'S PLAYTIME
Earlier this year, to almost no fanfare whatsoever, the German label Long Hair reissued B.B. Blunder's Workers' Playtime – a lost 1971 classic that manages to dip equally into post-White Album hard rock, cosmic prog, tongue in cheek Stonesy-swagger, and anthems worthy of Spiritualized – all with the tossed-off nonchalance that marks some of the best music of the time. Killer slide playing, a veritable library of classic guitar tones, guitar orchestration to rival Jimmy Page's. Is the world ready for Workers' Playtime now? (read on)
AN INTRODUCTION TO WORKER'S PLAYTIME
Bill Whitten and James Beaudreau on what it is and why you should check it out
AN INTERVIEW WITH BRIAN GODDING
Whitten and Beaudreau ask Brian Godding about Worker's Playtime, Blossom Toes, and more
DISCOGRAPHY
A comprehensive look at Brian Godding's output
SOUNDS
BB Blunder's "Sticky Living"
ABOUT THE AUTHORS
Bill Whitten and James Beaudreau