June 2006: SPOTLIGHT ON...
B.B. BLUNDER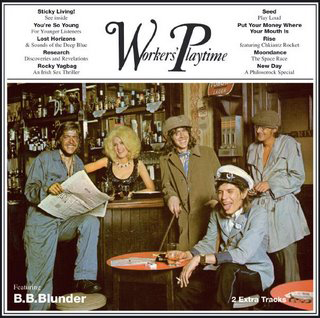 GRAND MAL'S BILL WHITTEN AND JAMES BEAUDREAU INTRODUCE BRITISH GUITAR LEGEND BRIAN GODDING AND THE LOST CLASSIC, WORKER'S PLAYTIME
While the steady stream of 60s and 70s reissues gurgling over the shelves of small, hip record stores all over the world washes up gold less often than most marketing departments would have you think, the ones involving British guitarist Brian Godding have sparkled.
Sometime in 2002 Polygram Japan issued a great sounding CD of the Blossom Toes' We Are Ever So Clean, a baroque, Carnaby Street-dressed, Giorgio Gomelsky-produced product of post-Sgt Pepper psychedelia. Godding was the guitarist in the group, and a principal songwriter. "Ever So Clean" was followed by a reissue of the Blossies' second album, If Only for a Moment, which features a tougher, progressive hard rock sound. The first reissue was better received in a time when the Beatles were still on every third cover of the big UK glossy rock mags, but the second is arguably the deeper record.
Earlier this year, to almost no fanfare whatsoever, the German label Long Hair reissued what was, except in name, essentially the third Blossom Toes record: B.B. Blunder's Workers' Playtime. It's the gem of the bunch – a lost classic that manages to dip equally into post-White Album hard rock, cosmic prog, tongue in cheek Stonesy-swagger, and anthems worthy of Spiritualized – all with the tossed-off nonchalance that marks some of the best music of the time. And the band does it without taking itself too seriously for even one second.
And that's not to mention the guitar work, some of the best, song-for-song, of the era. Killer slide playing? A veritable library of classic guitar tones? Guitar orchestration to rival Jimmy Page's? Check, check, and check. And the era, exactly? 1971. Sticky Fingers, Led Zeppelin IV, Who's Next, Hunky Dory, and Layla, to name a few, were released that year. Workers' Playtime hangs with that company, though it's quirkier than any of them, and broader in stylistic scope too. Is the world ready for Workers' Playtime now? We hope so.
We caught up with Mr. Godding via email and asked him some questions about Blunder, the universal mysteries, and grumpy old pop stars...
continue to the Bill and James' interview with BB Blunder's Brian Godding
WORKER'S PLAYTIME MENU
main | intro | interview | discography | sounds | links