For this week's New York Night Train show list go here. For information about the venues go here. Click the names in bold to learn more about the artists.
Recommendations for Thursday, April 6, 2006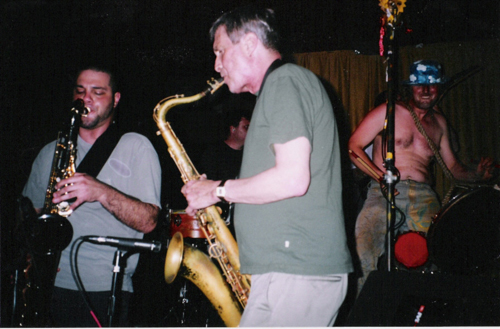 Steve Mackay

Steve Mackay and Radon Ensemble, Death By a Thousand Cuts, Moth, Jazzhandzz – Glass House:
Steve Mackay is the man whose tenor sax solos from The Stooges Funhouse have been planted deep in your psyche for years – that collision of free jazz skronking, r&b honking, and the hard noir-ish sound of illicit activities in shady interiors during the wee hours. Are ya hearing "Los Angles Blues" in your head right now as well? He also has worked with Commander Cody, Snakefinger, and a number of other notables. A few years ago the Radon Collective found him and started releasing his experimental solo albums. Get there early for some of New York's better esoteric ensembles. New Jersey duo Death by a Thousand Cuts' spacious dissonant atmospheric blasts are definitely worth checking out. The explorations of the trio known as Jazz Handzz are brought to you by members of Stay Fucked and Necking plus David Moss who sometimes performs with William Parker. As for Moth, you know as much as I do.
Also recommended:
Against All Authority, The Code, Brain Failure, Crime in Stereo - Knitting Factory Main Space 6PM $10/$12
Blood Sugar – Tonic MIDNIGHT, FREE
Gil Mantera's Party Dream, The Robocop Kraus, Human Television - Northsix $10
Hundred Eyes, Antonius Block, Dynasty Electric – Tonic 8PM $8
Jessika Kenney and Chris Miller – The Stone $10
Kinda Kinda Kinks – Magnetic Field
Th' Legendary Shack*Shakers, Scott H Biram, Hazmat Modine -Mercury Lounge $10
Go to NYNT's Live Archive here.
© New York Night Train , 2006