For this week's New York Night Train show list go here. For information about the venues go here. Click the names in bold to learn more about the artists.
Recommendations for Friday, April 7, 2006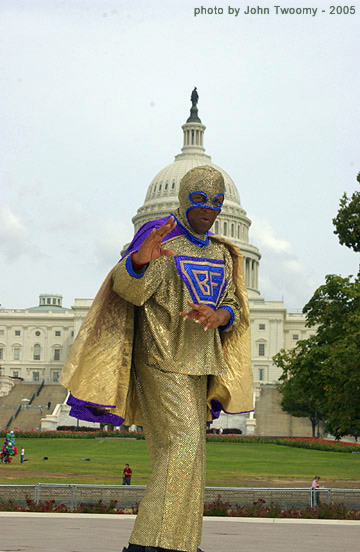 Blowfly for president!
Blowfly, Prince Paul & Mister Dead, Grand Buffet, Despot plus Free Blood, Slow Jams Band, Freddie Mas, Sexy Thoughts – Club Exit (www.toddp.com) $10:
This is one of my favorite things Todd P has ever put together - an interracial musically diverse bill in one of Greenpoint's finest Polish discso. I'll first to admit that, after all of these years, the indie/postpunk/underground scene still hasn't been able to reflect and include the diversity of this city, America, and the outside world in general as much as one would hope – AKA it's still too white – physically and musically. And while everyone's aware that there're more artists of color out there than TV on the Radio, promoters, showlists, indie rags, labels, and our entire subcultural culture industry doesn't do much to indicate the diversity that's out there. But enough kvetching, I'm now celebrating this big beautiful exception.
Clarence Reid, better known as Blowfly, while definitely not the most politically correct voices in music, has been making some of the dirtiest records of all-time since the 1970s. His raw and uncouth, yet witty, burlesques of popular hits and originals anticipated not only the vulgar lyrical bent of his hometown of Miami rap style by over a decade, but his style anticipated rap in general. If you follow his output, you'll find him adapting his unique sensibility to the trends as they arrived - soul, funk, disco, early hip hop (he was one of the first, if not the first artist of his generation to embrace hip hop), electro, etc.. From "What a Difference a Day Makes" to "Roxanne Roxanne," Blowfly always had a responded to mass culture. Also it's worth investigating, Clarence Reid's career as a prolific producer/songwriter for TK Records (with a few top forty hits), a do-it-yourselfer releasing early Blowfly albums on his own imprint, Weird World, and a bridge between the Red Fox/Rudy Ray Moore comedy style and the music of Two Live Crew. I haven't seen the old dirty bastard perform since his Austin comeback shows at a German beerhall over a decade ago - it was hilarious, funky, and, even by today's standards, filthy. Prince Paul is one of the only early second generation hip hop innovators that continues to make incredibly challenging, forward-thinking, and vital music (Stetsatonic, De La Soul, Handsome Boy Modeling School –(my fav) the timeline continues) – come find out if he still needs a haircut. Mister Dead you might know better as Mister Virus from the Metabolics – one of the more creative and distinctive emcees out there. Despot and Buffet are both goofy white party hip hoppers – Despot flying solo from Queens and Grand Buffet a duo from Pittsburgh that's been at it for quite some time now.
In the club's "Lapdance Lounge" you'll find some usual Todd P suspects – the super fun(ky) and unusual !!! offshoot Free Blood, the funny performance/music project Slow Jams Band, houseyDJ/performer Freddie Mas, and one of Kevin Shea's cornucopia of projects – the solo act Sexy Thoughts.
I honestly can't think of anything in a long time that sounds this fun. Also, if you feel like something low-key and free, the PoNaveNunkRockDeeJayShow DJ's and their guests at the Southside Lounge, sport the best haberdashery scores in town and are seldom anything less than fabulous..
Also recommended:
A Boy Named Thor, Pants Yell!, Flying - Cake Shop
Arab Strap – Southpaw $15
Charlie Burnham Quartet – The Stone 10PM, $10
Donald Moore and Friends – The Stone 8PM, $10
The Heartless Bastards, Soledad Brothers, Demander, Neil Cleary - Mercury Lounge $12
The Hold Steady, POS, Miguel Mendez - Warsaw $16.50
The Mugs, White Bear – Magnetic Field
The Raconteurs - Irving Plaza $20
Sex Mob – Tonic 10PM $12
Sex Mob – Tonic MIDNIGHT $5
Sonar, Good For Cows – ISSUE Project Room $10
Songs of the Desert – Peter Jay Sharp Theatre at Symphony Space $26
The Sword, Torche, ASG, Tarantula A.D. - Maxwell's $8
The Woods plus Colossal Yes – Tonic 8PM $8
Go to NYNT's Live Archive here.
© New York Night Train , 2006