For this week's New York Night Train show list go here. For information about the venues go here. Click the names in bold to learn more about the artists.
Sunday, April 10, 2006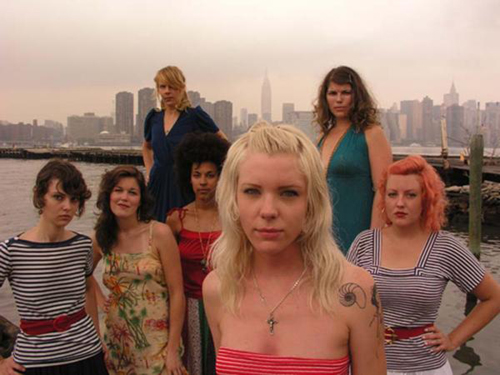 Pyradical
Bitch and the Exciting Conclusion, The Anabolics, Pyradical, Inner Princess, Luff– The Cake Shop FREE:
The gendered theme of tonight's segment of The Free Festival, either all-woman bands or bands that include women, is the makings of a mighty fine bill. Bitch and the Exciting Conclusion is the project of the lesbian thespian duo of Bitch and her significant other, The L Word's Daniela Sea. I've never heard the duo, but Bitch has always been too coffee house and too theatrical for my personal musical taste – but, I'm down with her lyrics and message. On the other end of the spectrum, the traditional power-pop of The Anabolics is rocking, unpretentious, and raw. But the real draw for me tonight are the newer, weirder, and more adventurous bands on the other end of the bill. Pyradical, who will be returning after a bit of a hiatus, are a parrot-less all-pirate sextet whose experimental shanties are sure to leave you shanghaied (and will be playing the all-pirate bill later this week). I also look forward to the mess of Inner Princess' low-fi dance party excitement. Finally, the paced ambience of post-rock minimalists Luff lead off the proceedings. Good stuff - go early... grrlie
Also recommended:
Quasi, Bonfire Madigan - Knitting Factory Main Space - $12/$14
The Reverend Vince Anderson and his Love Choir – Black Betty FREE
Shane Endsley, Common Thread – Tonic
Wolf Parade, Holy Fuck, Besnard Lakes - Webster Hall $17
Go to NYNT's Live Archive here.
© New York Night Train , 2006