For this week's New York Night Train show list go here. For information about the venues go here. Click the names in bold to learn more about the artists.
Tuesday, April 11, 2006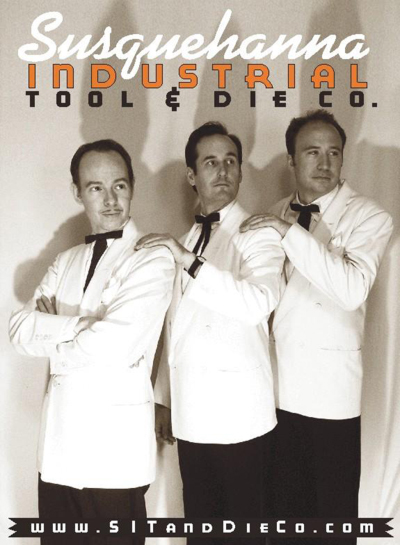 Susquehanna Industrial Tool and Die Co. - Rodeo Bar FREE:
While I'm not in the habit of sending folks out to Murray Hill - or to sending 'em out to hear rootsy music, I'm gonna make an exception for Susquehanna Industrial Tool and Die Co..
Now for a two-sentence New York underground music history lesson. Susquehanna Industrial Tool and Die Co. guitarist/vocalist/songwriter Michael McMahon and standup bassist Garth Powell were both members of a seminal hillbilly group that emerged from the downtown punk scene in the 1980s - The Last Roundup. The Last Roundup's recorded legacy includes an LP on Rounder and an appearance on Coyote Records' 1985 compilation Luxury Condos alongside Raunch Hands, Yo La Tengo and others. They are notable because Amy Rigby (McMahon's sister) and Angel Dean were the other half of the band - and should be recognized for the simple fact that they were a good band that was miles ahead of retro-trendmaking.
While many folks'd simply refer to Susquehanna Industrial Tool and Die Co. as rockabilly, and they certainly have the same instrumentation that most know best from Elvis' early Sun years - electric guitar, acoustic guitar, and standup bass – the band prefers to call their repertoire "ballads, boogie, and blues." Sure, all three of those ingredients wound up making rockabilly what it was, but SITDC have a firm grasp on the elements that made post-war "hillbilly," and "race" records so great long before they became identified with emerging suburban youth trends - the snap, the witty wordplay, and the raw musicality.
The reason that SITDC're getting mentioned in this underground music zine (that typically doesn'tdevote time to the type of stuff that goes down at the Rodeo), is that these McMahon, Powell, and Jon Hammer are far from the typical knuckleheaded cliche that most of their contemporaries seem to aspire to - they approach this kind of music from the good side of the magic - with brains, creativity, and self-depricating humor. As with punk performance, they verbally confront their audiences and, even if you sit a ways from the band, you're libel to become the subject of the onstage banter. While they're accomplished musicians, their individual styles and overall approach is totally unique. On occasion they'll get so excited that they fall off and even derail – and laugh about it afterwards. Their cover choices can be more obscure than the most esoteric stuff in contemporary underground music – only older, more conventional, and generally more tasteful. These guys are far from poseurs and clearly have a great love and knowledge of the music they perform. Plus, they're just damned good at what they do. McMahon's songs are so well put together and lyrically sophisticated that it requires a sensitive and experienced ear to pick which ones are the originals. And finally, and most importantly, the band really shakes it down with no shortage of soul and distinction.
You can also catch 'em for free at Otto's Shrunken Head every Thursday. And check out the cool graphics on their website…
Also tonight:
Aestuarium - The Stone 10pm
Art Brut, The Rogers Sisters, Favourite Sons – Southpaw $15
Beth Orton, Willy Mason - Webster Hall $23/$25
Crimson Sweet, Birthday Suits, Roxy Pain, The Others Ran - Trash $7
Nacotheque Party w/Uli, Heladeras de Frape – Cake Shop $5
Quasi, The Marina, The Love Loves - Northsix $12/$14
Regina Spektor - Warsaw - $20
Skirl Records Launch Show: Tyft: Andrew D'Angelo, Hilmar Jensson & Jim Black, Ted Reichman: My Ears Are Bent, Oscar Noriega Trio, The Clarinets: Anthony Burr, Chris Speed & Oscar Noriega, Curtis Hasselbring's New Mellow Edwards – Tonic $10
Two Dead Sluts, One Good Fück; Talibam; Angel Dust; Triumps of the Gnoes; King Kapitol Punishment - Goodbye Blue Monday
Water/Music - The Stone 8pm
Wolfmother, Die! Die! Die! - Bowery Ballroom $15
Go to NYNT's Live Archive here.
© New York Night Train , 2006