For this week's New York Night Train show list go here. For information about the venues go here. Click the names in bold to learn more about the artists.
Wednesday, April 12, 2006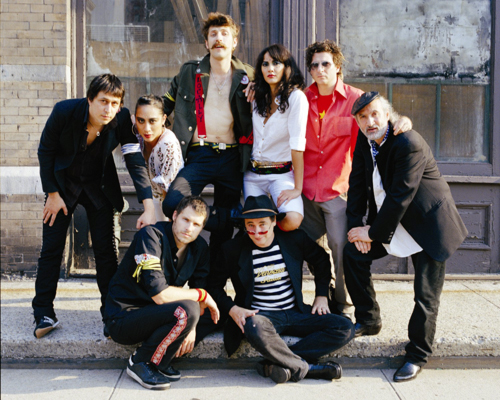 Gogol Bordello
Gogol Bordello - Warsaw $22:
I know that the last thing these guys need is a bit more press, but ya gotta it to 'em. Gogol Bordello isn't just shtick and they're not just some overblown out-of-nowhere phenomenon. What they are is a very real, unique, and exciting band that's been paying their dues for years. When Gogol Bordello got their start in the late 1990s they were a different animal – a lineup of three Eastern European immigrants with an acoustic guitar, accordion, vocals – and a non-Slavic drummer. While Eugene Hutz could be found most nights at an afterhours club on Ridge Street playing noise rock (he liked the good stuff mind you – Jesus Lizard, Cows, etc.) into the morning, his band was a lot less diverse, playing a folksy Ukrainian/gypsy hybrid. This version of the band was not musically special but Hutz's rabid attention-starved stage persona made sure that the performance was anything but boring. Plus the fact that Eugene was achieving an impressive level of success as a male model didn't hurt their audience demographic. In those quiet transitional days when New York's underground seemed to consist of only a handful of bands, there was a period of about a year (1999?) in which Gogol Bordello seemed to be play every show and party in town – and were notorious for refusing to get off of the stage – regardless of how many other bands were waiting to play next. In retrospect, you can see that Hutz and his gang just weren't meant to play forty-minute sets or open shows – they were made to play long and sweaty and do encores – which is exactly what has been happening for the last few years. The other news is that the band has turned into one of the most daring and soulful ensembles out there. While Eugene's improved greatly as a lyricist and a performer, the big step towards greatness occurred about five years ago – when the accordionist and guitarist were replaced by a new accordionist and two seriously amazing Israeli-born musicians borrowed from Firewater – one of my favorite NYC guitarists, Oren Kaplan, and accomplished and distinctive avant jazz sax maniac Ori Kaplan. This is when the band lost their purity, but where they also embarked upon a path towards becoming what they are - one of the wildest, wooliest, sweatiest, and, well... best live bands on the planet. Shell out…
P.S. That really is Animal Collective's AveyTare with Kria Brekkan at The Stone...
Also tonight:
Avey Tare, Kria Brekkan - The Stone 10pm
Harry and the Potters, Flying, Life Partners aka Crystal Cock Over Canada, the Flagpoles, Chaz – Goodbye Blue Monday $8-$15
La Otracina; Enos Slaughter; Bezoar, Nausea - TOMMY'S TAVERN
The Netherlands, Aji No Moto, Gelatine – Tonic $8
Shelley Burgon - The Stone 8pm
Who Put the Bad Mouth on Me, DJ Wicz - Glass House $3
Wilderness, The Big Sleep - Northsix $10
Go to NYNT's Live Archive here.
© New York Night Train , 2006