For this week's New York Night Train show list go here. For information about the venues go here. Click the names in bold to learn more about the artists.
Friday, April 14, 2006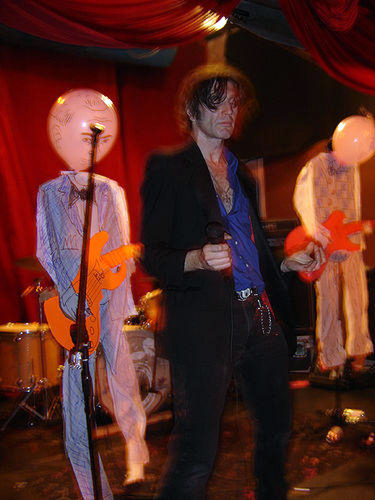 Stu Spasm of Lubricated Goat... and friends


Tonight there is too much going on to limit it to just one show. So here's a quick roundup of the top eight from top to bottom:
Gris Gris; Vietbong, Tomorrow's Friend, The Jewish– Cake Shop $7:
OK, if you read this rag, you know that these are some of our favorites. Gris Gris plays unparalleled unpretentious psychedelia and must be witnessed live to be understood. Vietbong is the members of Vietnam doing something a little different... or not. Tomorrow's Friend just came out of retirement. And the Jewish tickle the funnybones of the earlybirds. Since Gris Gris is getting more and more notorious, get there early 'cause this thing is going to be packed out.
Trio X - Brecht Forum:
Joe McPhee's played with everyone in avant jazz since the late-1960s. He gave the most intense, interesting, and well-conceived solo performance I've ever seen outside of string players (who have the advantage of accompanying themselves with an arsenal of rhythmic and harmonic tools) - all by himself in the corner of a Texas record store laying down sonic wall paper, building golems, and making 'em wrestle. Here he's joined by the superb rhythm section of bassist Dominic Duval and drummer Jay Rosen in their acclaimed project Trio X.
Lubricated Goat , The Stabs , Scout's Honor , Down in the Dumps - Knitting Factory Tap Bar $8:
Lubricated Goat's Stu Spasm's got to be equally one of the most talented, important, and under-appreciated figures in the history of indie rock. The Goat's Plays the Devils Music LP was as influential as any on the underground sounds of the late-1980s and early 1990s - and is absolutely required listening for all of you that overlooked it. Stu is still a charismatic, funny, and daring live performer, a weird guitarist, a top-notch lyricist, and an all-around artful conceptualist - in the most perverse of ways. The Stab's also from Australia and approach their rock from a muscular dissonant angle as well.
Ralph Stanley and the Clinch Mountain Boys, King Wilkie - Town Hall $33-$38:
Clawhammer banjo specialist Ralph Stanley's gotta be pushing 80. He's been recording and performing with the Stanley Brothers, the Clinch Mountain Boys, and alone since somewhere in the 1940s. Not only is he undisputedly one of the greatest bluegrass musicians ever, but one of the last members of his generation that's still going. A national treasure - catch 'em while ya can.
n0 things, Knife Skills, Child Abuse – Union pool $8:
Another bunch of bands I recommend often. n0things, Knife Skills, and Child Abuse are all three boundary-pushing trios on the heavier and more experimental end of rock - and some of the better bands going. Look around this site to learn more.
Eleventh Dream Day, Antietam, The Red Eyed Legends - Mercury Lounge $14:
I had no idea Eleventh Dream Day was still going, but this band used to really spin a mesmerizing Television-style dual guitar web about fifteen years ago. Antietam was also around back then. I don't think they've ever broken up or ceased to be cool the entire time.
SubHumans, Caustic Christ, Gorilla Angreb, Mouth Sewn Shut - Knitting Factory Main Space 6PM $10:
With these type of things it's difficult to be clear about how many original members and which ones, etc., but this is indeed the UK one (not the Canadians) responsible for The Day the Country Died and other classics. It's cheap and early if you want to take a chance.
Upper Crust, Gods of Fire – Knitting Factory Main Space $10:
Such a gimmick - but a great one - the first and only time I saw this powdered wig-wearing enlightenment-era aristocratic bunch - about a decade ago - they had velvet-roped off the area in front of the stage and put a bunch of classy antique chairs inside - designating the "posh pit." Furthermore their AC/DC style of rock lacked no shortage of wit and they played a song called "Let Them Eat Rock."

Really, eight isn't enough. Among other things, I also recommend the crazy Iko Mori project that takes up five lines below at The Stone, +/- at Northsix, jazzhanz at ISSUE Project Room, Oakley Hall and Miguel Mendez at Brooklyn Lyceum, The Roulette Sisters and Beat Circus at Barbes. Oh yeah, you'll find me at The Glass House early...
Also tonight:
+/-, Say Hi To Your Mom, Hymns - Northsix 18 $10
Crimson Sweet, Dark Skies, Twilight, ICU – Glass House:
Doveman, Oren Bloedow Easter Spectacular, Spielerfrau - Tonic $10
Flat Broke, Danger to the System, Dead on Friday, The Pushrods – Tommy's Tavern $7
Franz Josef Haydn - The Seven Last Words of Christ/Transfiguration: Song-a Dell'aquila-Cho (1st violin) Naho Tsutsui (2nd violin) Stephanie Griffin, (viola) Joanne Lin (cello) plus Guests - The Stone 10pm $10
The Giraffes, Midnight Show - Rothko $10
jazzhandzz with david grubbs – ISSUE Project Room $10
Oakley Hall, Miguel Mendez, The Redcoats Are Coming, Diane Cluck - Brooklyn Lyceum $10
Paradox Trio – Tonic MIDNIGHT $5
THE ROULETTE SISTERS, THE BEAT CIRCUS, GONDWANALAND – Barbes
S A T O R
A R E P O
T E N E T
O P E R A
R O T A S - Ikue Mori (electronics) Jessika Kenney (voice) Shelley Burgon (harp, laptop) Trevor Dunn (bass) Miguel Frasconi (glass objects) Eyvind Kang (viola, violin) - The Stone 8pm $10
Souvineers Young American, Bunny Rabbits - Northsix $7
Talib Kweli, Wax Po All Stars, Kontrast - The Puck Building $15



Go to NYNT's Live Archive here.
© New York Night Train , 2006