For this week's New York Night Train show list go here. For information about the venues go here. Click the names in bold to learn more about the artists.
Monday, April 17, 2006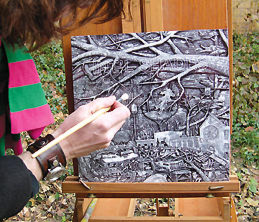 Int'l Shades album cover created sans computer
Int'l Shades Record Release with Doug McCombs, Chris Brokaw and Elliott Dicks, Alan Licht and the Prix, – Tonic
If I had to pick only one show tonight, I'd be at Tonic helping Int'l Shades celebrate the release of their debut album Hash Wednesday. Out of all of the better local bands, Int'l Shades is one of the more overlooked – which is a surprise because they are a supergroup, but is less surprising when taking into consideration that they're the ultimate supergroup of the shadowy secret history of indie rock before the days of audiences, Pitchfork, or any of that other jazz. So skip ahead if you don't want another banal but necessary History Lesson Part 2. Singer/songwriter/guitarist Tim Foljahn is known both for his fine Leonard Cohenesque LPs in the 1990s with Smells Like Records under the moniker Two Dollar Guitar - and also for his work as a sideman backing up Jad Fair in Mosquito, Thurston Moore in Male Slut, and Chan Marshall in Catpower. He even fell into the Boredoms for a spell. Just to illustrate how broad Foljahn's scope is, I'll site Margaret Brown's stellar new documentary Be Here to Love Me – which shows that Foljahn and frequent collaborator Steve Shelley were the last folks to ever enter a studio with Townes Van Zandt. Then there's Bob Bert – who is of course the legendary drummer Bob Bert from Sonic Youth, Pussy Galore, Action Swingers, Chrome Cranks, Knoxville Girls, and quite a few more of the most important underground rock bands ever. And that ain't all - bassist Mark C played with Live Skull and Spoiler and Dorien Garry played keyboards with Ted Leo and the Pharmacists. Their band could be your life...
Int'l Shades debut album Hash Wednesday is accurately captures the band's unique sound – which while sitting comfortably at the intersection of the best stuff in the subterranean canon, is somehow never derivative. Foljahn's songs and vocals continue to be compelling and the band sculpts comfy mid-tempo gems that are at once spooky, subtly melodic, lightly psychedelic, tasteful, and urbane, but still raw. A more down-to-earth Joy Division? A more tuneful Fall? A no-nonsense post-punk Modern Lovers? You won't be able to put your finger on it either, but this very ambiguity, when combined with that odd familiarity is precisely why you'll return for more. It appears that you can pick up a copy at BB Gun's site if you can't make it tonight.
Doug McCombs, Chris Brokaw, and Elliott Dicks are also part of the formerly-of club – featuring members of Tortoise, Eleventh Dream Day, Come, and Codeine. Alan Licht and the Prix is of course guitarist, writer, and Tonic booking guy Alan Licht – who may be the most prolific of all and certainly deserves much more than this lousy sentence.
Quite a night...
Also:
Amolvacy, Kohoutek, Brown Wing Overdrive, Glen Olden – Goodbye Blue Monday (toddpnyc.com)
Brain Surgeons NYC (ex-Blue Oyster Cult, Dictators), John Wilkes Booth, The Attorneys – Northsix $12
Jana Hunter – Maxwell's $8
The Moonlighters – Rodeo Bar FREE
Reverend Vince and his Love Choir – Black Betty FREE
Slavic Soul Party – Barbes
Vague Angels (Chris Leo), Larune's Bulgaria – Cake Shop, free

Go to NYNT's Live Archive here.
© New York Night Train , 2006