For this week's New York Night Train show list go here. For information about the venues go here. Click the names in bold to learn more about the artists.

By the way, pardon the appearance today, the computer crashed yet again while trying to complete the ill-fated Mardi Gras diary...
Thursday, April 20, 2006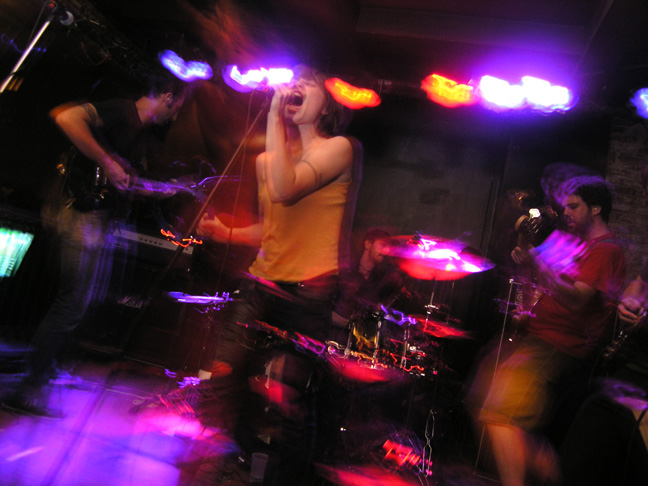 Big Bear, Michael Columbia, Knife Skills, More Teeth, Ecstatic Sunshine Ø Cake Shop $7
Also:If I had to pick a show tonight, I'd probably end up at the eclectic five-band bill at Cake Shop. Donót let Big Bearós name fool ya Ø they ainót just another animal band. While this tight, accomplished Boston quintet drums up dynamic loud brutality with the best of 'em, their big ace is the elaborately strange dual guitar harmonies that set them apart from the rest of 'em. The electronics and saxophone duo Michael Columbia perform playful quirky soundtracks with equal parts high artistry and kitsch. In addition to some of the best promo photos ever ( 1, 2 ), Knife Skills is a unique Brooklyn trio that is more than capable of blasting the occasional shard of glass through your skull. More Teeth is a one-woman band who makes sonic collages with a full drum kit, vocals, a mini-disc, a Dr. Rhythm and a Dr. Sample. Finally, Baltimore openers Ecstatic Sunshine play dual abstract electric guitar duets with no shortage of either beauty or humor.
Also:
A Place To Bury Strangers, Autodrone, Udet, White Hills Ø Tonic $8
Ahleuchatistas Ø Tonic MIDNIGHT $5
Andrew Drury Ø The Stone 10PM $10
Bill Frisell Quintet - Village Vanguard $30/$35
*King Missile, God Is My Co-Pilot, Dearborn, Changing Modes, Pants Avengers, The Woes Ø CBGB $7
Mary Halvorson and Jessica Pavone Ø The Stone 8PM $10
Oakley Hall, Kinski, Bible (members of Oneida), Fireball - Mercury Lounge $10
Sten Hostfalt Ø ISSUE Project Room $10
*Susie Ibarra & Roberto Rodriguez, Michelle Kinney & Jacqueline Ferrier Ultan - Location One $15

*Beware of these two shows which i found in the increasingly unreliable Village Voice calendar - For the CBGB show, neither God Is My Co-Pilot nor CB's list the band as playing (if they were this column would look very different). The other is the supreme duet of Susie Ibarra and Roberto Rodriguez - who list the show at Location One on the 20th of May instead of April.
Go to NYNT's Live Archive here.
© New York Night Train , 2006