For this week's New York Night Train show list go here. For information about the venues go here. Click the names in bold to learn more about the artists.

By the way, pardon the appearance today, the computer crashed yet again while trying to complete the ill-fated Mardi Gras diary. But enjoy the authentic hand-coded HTML. How many bloggers can do dat?..
Friday, April 21, 2006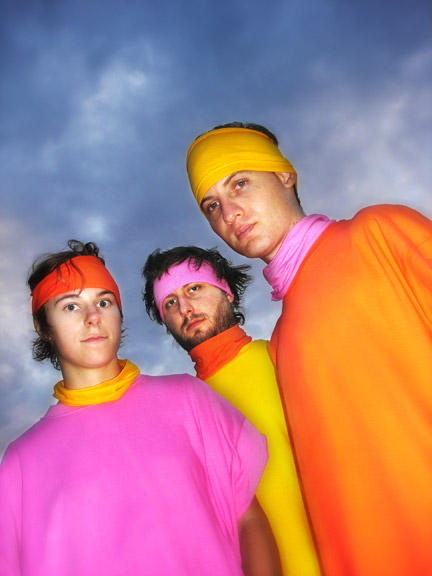 Awesome Color, Home, The Believers, Scotty Karate Ø Cake Shop $7
Also:If I had to pick a show tonight, I'd probably end up at Cake Shop once again. Power trio Awesome Color sound kind of like Blue Cheer and Sabbath jamming in Detroit. Ø OK, what the hell, they sound really Detroit 1969. Which kind of makes sense because they relocated from Michigan to Brooklyn a few months back. Plus who doesnót still have a place in their hearts for The Stooges and MC5 after the fifty-millionth listen? I know I still got some. Plus, while you can see the influence, itós not totally derivative and they clearly have their own thing going on - fuzzed out, mid-tempo yet propulsive Ø and somehow their heaviness is relaxed enough that, during some of the blues-scale-riding guitar solos, you could even call 'em "airy." If it doesn't make sense to you, stop by their myspace page to check out "Ride'n" and "Free Man" to know where I'm comin' from. Feel it? Thurston Moore did. He was so taken by Awesome Color that he signed them up on his Ecstatic Peace imprint and took 'em in the studio a few weeks ago. Now that he's inked a distribution deal with Universal Entertainment, it looks like the Color's debut will be his first Universal release. I don't know if it's a good thing or a bad thing but, judging by the way things are going, you should go see 'em now and get it while its hot before you get sick of hearing about them in the future.
And then there's Home, who I'm stoked to hear are still going (or making a comeback?). Home made some solid albums in the 1990s on some of the better labels like Emperor Jones, Jetset, and Arena Rock. They were a rare band that, in the fashion of The Swell Maps, was equally successful playing pop songs, experimental bits, and a fusion of both - versatile players, daring arrangers, first-rate songwriters, and creative to boot. Welcome back fellas...
With the unique lo-fi East Hampton outfit The Believers and the talented Michigan post-modern pastoralist Scotty Karate. Another great billÌ.
Soulive, Toots and the Maytals Ø Nokia Theater
Ióm still on the fence about Soulive, but their opener, Toots and the Maytals, are undisputed living legends and would be headlining Madison Square Garden if their was any justice on this puss-bloated marble of ours.
Also:
High on Fire, Goatwhore, Watch Them Die Ø Northsix $8
The Jamie Saft Blues Explosion Ø Tonic MIDNIGHT $5
Kria Brekkan Ø The Stone 10PM $10
Marianne Giosa and Daniel Carter Ø The Stone 8PM $10
Melomane Record Release Ø ISSUE Project Room $10
Nouvelle Vague Ø Irving Plaza $20
Roxy Pain, Terset, Free Diamonds, Forsake Ya to the Snakes Ø Northsix downstairs $8
Spires That in the Sunset Rise, Barbez Ø Tonic
The Moneychangers, The Coydogs Ø Magnetic Field
Go to NYNT's Live Archive here.
© New York Night Train , 2006