For this week's New York Night Train show list go here. For information about the venues go here. Click the names in bold to learn more about the artists.
Friday, April 28, 2006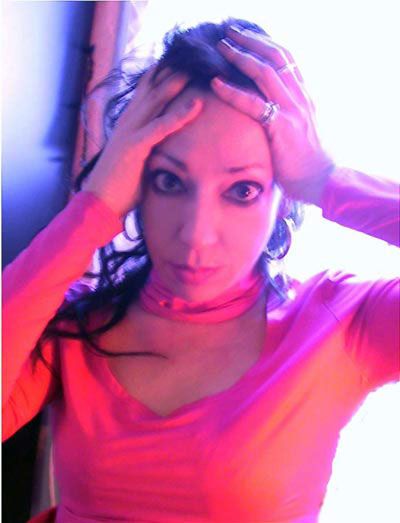 Little Annie with Paul Wallfisch and the 88s- Mo Pitkin's House of Satisfaction $10
From her days as the teenage punk rock singer for Little Annie and the Asexuals to her prolific years in England as an On-U Sounds dub diva to her collaborations with Coil, Nurse with Wound and other projects, right up to her solo material of the present, Little Annie has remained one of the more compelling voices in music for more than a quarter century. In one way or another, she's collaborated with quite a few more impressive figures that I've neglected to mention including Lee "Scratch" Perry, Crass, Kid Congo Powers, Wolfgang Press, Paul Oakenfold, Current 93, Bim Sherman, Gary Clail, and, what the heck, even Andy Warhol. For the last few years she's been doing a cabaret style singer/pianist act that's highly personal - sad, beautiful, and funny. While her show is peppered with amazing anecdotes, it never falls into shtick – her songs, personality, and voice remain central. And what a voice… it's still in top form. Tonight also celebrates the release of her new Durtro/Jnana solo LP (which came out last week). Entitled Songs from the Coalmine Canary, it is co-produced by Antony of Antony and The Johnsons and Joe Buedenholzer of Backworld. Her accompanist of late is none other than Paul Wallfisch of Congo Norvell, Firewater,and Botanica fame. Once again, highly recommended.
French Kicks, Love as Laughter, Dirty on Purpose, Broken Spindles, Kevin Devine – Pratt - Cannon Plaza FREE 4:30PM
Also, the free summer shows are in now in gear with these pretty popular bands at Pratt.
Also:
A-Bones, Action Swingers, Guilty Hearts, Ghetto Ways - Union Pool $8
E.M. Azoth – The Stone 8PM $10
Elf Power, Oakley Hall, The Instruments, Frank Bango - Northsix $10/$12
Macaca Mulatta, Ciccone, Nous Non Plus, The Spies, The Handsome Public - Sin-e $10
Flaming Fire, More Dogs, Coptic Light - Tonic $10
Fruit Bats, Amandine, Jason Friedman - Mercury Lounge
Gypsy Violin - Roby Lakatos - ANKEL HALL (AT CARNEGIE HALL) $30
How Odd to H-ear from Me - The Stone 10PM $10
LL Cool J – Nokia Theater Times Square $40
Octopus – Magnetic Field
OM, Michael Hurley, Stars, Boogie - 102 Ingraham St $10
PG Six, Pothole Skinny, Cabinet of Natural Curiosities, Thought Forms – Cake Shop $7
The Bill Frisell Quintet – Village Vangaurd $35
The ZAGNUT CIRKUS ORKESTAR, FANFARE PUSTULE – BARBEs
TUNNEL OF LOVE, ROXY PAIN, BIRDS OF MAYA, TITAN, LIGHTS – Tommy's Tavern $6
Go to NYNT's Live Archive here.
© New York Night Train , 2006