For this week's New York Night Train show list go here. For information about the venues go here. Click the names in bold to learn more about the artists.
Saturday, April 29, 2006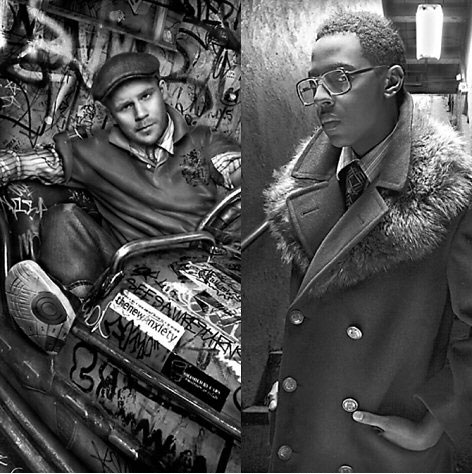 Spank Rock, Plastic Little, Cuiz - Mercury Lounge $10/$12
It's a beautiful Saturday, so I'm not going to waste too much or your time or mine. But, if you're looking for a pick tonight, I have two words for you:
SPANK
ROCK
Maybe the best newish hip-hop thing going. Hilarious, playful, and unique rhymes over tracks that'll remind you of all of the best stuff - Detroit, Miami, Germany, Baltimore, Bambaataa,... but still all there own. 'Nuff said...
OM, Growing, Pearls & Brass, Neptune, Wooden Wand, DJ Caveman Skillz - Knitting Factory Main Space $10/$12
Oh yeah,... and... i forgot... the stoner show of the century...
Now get off of the computer and go outside and play...
Also:
The Bill Frisell Quintet – Village Vangaurd $35
Breakup Breakdown - The Annex
Cash Carson, The Ribeye Brothers – Magnetic Field $6
Don Lennon, Dasher - Cake Shop $6
Fruit Bats, Amandine, Sam Jayne - Maxwell's $12
Impractical Cockpit, The Good Good, More Dogs, USAISAMONSTER - Glasshouse Gallery
KMET - Tonic MIDIGHT $5
L-D Section II (Lansing-Dreiden), Rusty Santos, Lilys - Asterisk* Art Space $10
LUMINESCENT ORCHESTRII, THE MAD TEA PARTY, LAURA FREEMAN -Barbes
New Interfaces for Musical Expression – Tonic $12
Orishas, La Bruja – Irving Plaza $25/$28
Suede - Joe's Pub $20
Vishal Vaid, Ole Mathisen and Jamshied Sharifi– The Stone $10
World/Inferno Friendship Society, Amateur Party, The Ratchets - Northsix $12
Go to NYNT's Live Archive here.
© New York Night Train , 2006