Live Recommendation for Wednesday, February 22, 2006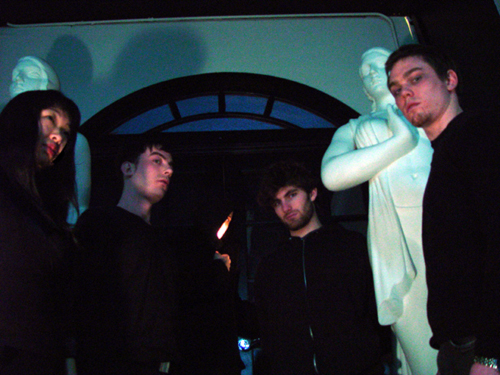 BLOODY PANDA
If I had to pick one show tonight it would definitely be Bloody Panda: and Floriculture at Tonic.
Bloody Panda is either a metallic experimental band or an experimental metal band – whichever you prefer. With a whole lot more brains, taste, and musical sophistication than the recent trendy crop of indie metalists and a whole lot more balls than your average art band, they have a lot more in common with either the sort of art-core lineage that has over the years bridged New York jazzmen's forays into heaviness with Japanese masters of abrasiveness – which makes since because singer Yoshiko Ohara is from the Osaka art scene, Dan Weiss is an accomplished jazz drummer, Blake McDowell's played with a slew of forward-thinking metal bands, and guitarist Josh Rothenberger and bassist Bryan Camphire double on synths and samplers. Pure tooth-grinding paint-peeling.
Weiss also play with openers Floriculture who are celebrating the release of their new CD Between The Lines. Led by composer/pianist Chris Maguire, Floriculture also features a notable downtown avant heavies Chris Mannigan on alto sax and Trevor Dunn on bass.
Also recommended tonight:
Anthony Coleman plays Mordechai Gebirtig – The Stone 8PM $10: Anthony Coleman plays solo piano to celebrate the release of his new Tzadik recording.
Yoel Ben-Simhon with the Sultana Ensemble – The Stone 10PM $10: Yoel Ben-Simhon (vocals, oud, guitar) leads his Jewish Moroccan group which features Leanne Darling (viola) Emmanuel Mann (bass) Harel Shachal (g clarinet, sax, zurna) Tomer Tzur, Brahem Frigane (percussion).
Hamell on Trial - Knitting Factory Old Office $12: Upstate-via Austin-back to New York anti-folk hero Hamell is intense and has no shortage of memorable story-songs.
For this week's New York Night Train show list - go here. Click the names in bold to learn more about the artists.
Go to NYNT's Live Archive here.