For this week's New York Night Train show list go here. For information about the venues go here. Click the names in bold to learn more about the artists.
Live Recommendations for Friday, February 24, 2006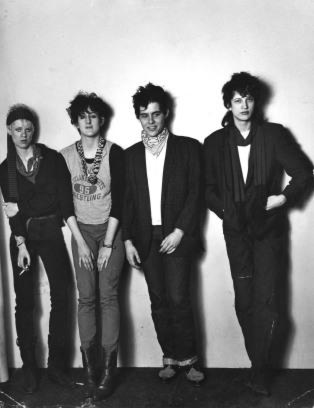 Bush Tetras
BUSH TETRAS AND INT'L SHADES
If I had to pick only one show tonight, though Ariel Pink with Psychic Ills would be a close runner-up, I'd have to give it to Bush Tetra's and Int'l Shades at Tonic. It seems as if the Tetra's are a real band again for what must be at least their fourth reincarnation – they've been reuniting sporadically at least since the time I saw them open for The Fall almost a decade ago – and, even more impressively, they're one of the few bands that has the entire original lineup. Pat Place's work with the Contortions and the Tetra's makes her the New York underground's answer to Chuck Berry or Scotty Moore – and, though she influenced the entire post-punk and new wave movements, she still sounds fresh and electrifying. Vocalist Cynthia Sley is still in good shape and the rhythm section of Laura Kennedy and Dee Pop are still hard hitting – with no lack of butt. Since I've heard "Too Many Creeps" even in the most unlikely places over the last five years or so, maybe that means it's their time again? A totally welcomed re-addition to NYC rock'n'roll.
Openers Int'l Shades are also very much worth checking out. One of the more under-rated local bands and a super-group of sorts, the band is Sonic Youth/Pussy Galore skinpounder (and metal pounder) Bob Bert (who's also played with everybody else - if you don't already know click his name), Mark C from Live Skull and Spoiler, Ted Leo's sometimes keyboardist Dorien Garry, and, brilliant singer-songwriter Tim Foljahn (AKA Two Dollar Guitar – along with Steve Shelley, one of the last two people to be in the studio Townes Van Zandt). Tim's songs and vocals continue to be catchy and compelling and the band rocks a unique yet comfortable sound that sits at the point where all of the best stuff in the subterranean canon intersects. Spooky, tasteful, raw, and urbane.
Also recommended:
Highly rcommended! Ariel Pink, Psychic Ills, Belong, Rusty Santos - Knitting Factory Main Space $10/$12
Highly rcommended! Hell's Hills, Brian Miller and Kevin Shields, Pedestrian Deposit, Eystek - Tommy's Tavern $6
Highly rcommended! Yeah Yeah Yeahs, Blood on the Wall - Bowery Ballroom $20 – SOLD OUT
Bad Brains, Leeway, Ensign, Upnrunin, Charge - CBGB 1 $15
Car Park Presents Ariel Pink/Belong After Party - Cake Shop 12AM
The Ensemble, Bonnie B. Jones, Andy Hayleck - ISSUE Project Room $10
Frances - Tonic 12AM
Hamid Drake and Michael Zerang - Whitney Museum
Man Man, Vaz, Blood Feathers - Northsix $10
Tyson Meade, Arbor Day, Anna Kramer - Cake Shop 9PM $6
Vijaay Iyler Quartet - Jazz Standard
Go to NYNT's Live Archive here.