Live Recommendations for January 30, 2006
For this week's New York Night Train show list - go here

MONDAY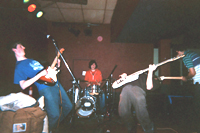 Capillary Action, Hi Red Center, The Fugue, People - Northsix $8. Perhaps the most interesting thing going on tonight is an earsplitting bill in the basement of Northsix. Philly's Capillary Action, who has a couple of albums out on Pangaea Recordings, is one of those bands that immerse themselves in a post-Bungle form of extreme eclecticism. These young Philadelphians dabble in metal, bossa nova, post-rock, avant jazz, and a number of other genres – often within one song. Hi Red Center is a group of Brooklyn goofballs with a similar aesthetic – really messed-up jazzy prog rock – but perhaps a bit more integrated and with more unique instrumentation than Capillary Action – and maybe my favorite band here. The Fugue is a local bunch with a few singles to their name – one of which is a split with their aesthetic sibling AIDS Wolf. Don't let the name fool you – no Bach here – just a combination of all things noisy - classic Touch and Go noise rock, Japanoise, and early 80s pure noise and hardcore. Overall, they wouldn't have been at all out of place in the early 1990s underground. Their sound is marked by screaming distorted vocals and guitar, heavy beats, and no shortage of dynamics. I have a headache just to thinking about it.
Turpentine Brothers, Kerry Davis & The Two Tears, Winning Looks - Cake Shop $5. Turpentine Brothers are a Boston outfit that features Mr. Airplane drum-maestro Tara McManus. While they are of the Lyres lineage of Boston garagey/R&B bands with organs, they remind you more of the mellower Oblivions when they played nine songs with Quintron. Two Tears is the newish band led by Kerry Davis of Red Aunts, Barracudas, and Beehives fame. She's matured a bit but that doesn't mean that her stuff doesn't rock – and it's certainly weirder and has more to bite into. I think this may be her most realized project yet. Another good bet.
Deerhoof, Starter Set featuring Leg and Pants Dans Theeatre, Le Ton Mite, L'ocelle Mare - Bowery Ballroom $13 SOLD OUT. Deerhoof is at Bowery Ballroom which certainly deserves mention. I'm still waiting for this stuff to move me more and irritate me less than it does the entire press and some of my friends. If you want to find out more, look anywhere. What!? I swear I ain't playa hating again. What!? I think I'd be more interested in the opening acts. Starter Set featuring Leg and Pants Dans Theeatre is a dance troop with a video on Kill Rock Stars. They feature Katie Eastburn (who has her own band on Too Pure Records, Young People, is doing a collaboration with locals Telepathe, and recently produced Hot Fire) and Jane Paik founder of Janet Pants Dance Theater and director of a Vaz's new video. L'ocelle Mare is a contemporary classical guitarist of sorts. And le ton mite is a creative French experimental post-folky singer/guitarist whose quarky compositions are really out of the ordinary and definitely deserves some more looking into.
Les Paul Quartet - Iridium $37.50. Finally, he doesn't fit in so well here, but technological innovator and guitar hero Les Paul is turning ninety soon, still has it, and proves it every Monday.
Go to NYNT's Live Archive here.