Live Recommendations for Wednesday, February 1, 2006
For this week's New York Night Train show list - go here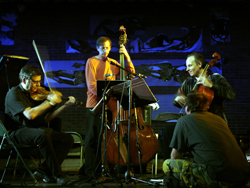 Masada String Trio, Classic material from John Zorn's Masada Book One w/Mark Feldman, Erik Friedlander, Greg Cohen – The Stone (8PM). Masada String Trio, New material from Masada Book Two: the book of angels w/Mark Feldman, Erik Friedlander, Greg Cohen – The Stone (10PM) $20 each or $30 for both shows. This impressive trio of Masada veterans will be performing pieces from John Zorn's most celebrated project. Greg Cohen, who's been with project since its inception, is known outside the jazz world for his work with Tom Waits, Lou Reed, and the Rolling Stones. Violin virtuosos Mark Feldman, also a solo artist, has played with dozens of jazz and classical projects and even done a bit of country music session work with Johnny Cash, Willie Nelson, and the rest. Cellist Erik Friedlander, in addition to leading his own groups of Chimera and Topaz, has also played with everyone in the avant jazz world. If you like Masada I don't see how you can could go wrong. Totally worth it – and, if you stay all night and listen to the "radical Jewish music" from both books, they'll cut you a deal. Shoyn ainmol a' metsei-eh!

Love as Laughter, Miguel Mendez, Favourite Sons, TK Webb - Knitting Factory Main Space $7. Subpop's Love is Laughter, who have to have been around for at least a decade since their K days (heydays), disappeared and came back last year with Laughter's Fifth. The record marks a departure from their noisier and messier past and an entrance into a more streamlined classic rock style. The songs are better than I remember and the band wears their newfound maturity better than most. I imagine they will rock fairly hard live. Miguel Mendez performs respectable lush and intricate contemporary folk. Local indie rockers Favourite Sons are also on the bill. And the opener at this show, and most other noteworthy shows, is the official folk blues journeyman of the New York underground, Social Registry's brilliant TK Webb.
Bobby Previte, Zeena Parkins & Jamie Saft - Tonic (10PM)
This renowned trio is all solo artists in their own right as well. Bobby Previte is an experimental jazz drummer who's worked frequently with the likes of Elliot Sharp/Carbon, Wayne Horvitz, and John Zorn. Zeena Parkins may just be the avant scene's premier electric harp improviser. In addition to membership in Zorn's Cobra, and Fred Frith's Skeleton Crew, she's also played with less usual suspects like Courtney Love, Bjork, Jim O'Rourke, and Nels Cline. In addition to his solo records on Tzadik, multi-instrumentalist/engineer Jamie Saft also crosses between the pop and avant scene, collaborating with artists as far flung as Laurie Anderson, B-52s, Los Cubanos Positivos, Antony and the Johnsons, and Chocolate Genius – to name a few. I have no idea what they'll be doing together but it sounds promising.
Gabriel Alegria's Afro-Peruvian Jazz Sextet – Tonic (8PM). Peruvian trumpeter Gabriel Alegria leads this ensemble that emphasizes the similarities between Afro-Peruvian music and jazz. The sound is defined by highly syncopated rhythms and improvisation.
Go to NYNT's Live Archive here.