Live Recommendations for Saturday, February 4, 2006
For this week's New York Night Train show list - go here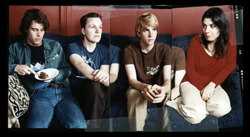 Picastro, Espers, PG Six - The Lucky Cat (Todd P) $6: If you're one of the recent multitude down with the neo-folk the last couple of years, this bill this is definitely your ticket. My personal pick here is the imaginative and superb Canadian quartet Picastro. Like a lot of my favorite stuff, they're hard to place, but have really intricate compositions punctuated with more than a few musical surprises – and, unlike the others here tonight, seem to know how to swing it. Then there's Drag City's Espers. It doesn't take a rocket scientist to know where these guys are coming from – think Fairport Convention. They're actually really good at it and are their best when their unlikely cover songs are transformed into their genre. While I'm trying to refrain from to using the term "Renaissance Fair" in this review (dammit! I really did try), another very capable anglophile folk band is upstate's P.G. Six. While I ain't the biggest folky, I'd take this over Jenny Lewis any day - but I'm just warming you up there -more on her later.



Talibam!, The Bemus Point, Lance Romance, Old Table, - Cake Shop $5: Talibam is a drums/synth/sax trio that features Kevin Shea from Storm and Stress and Coptic Light. Talibam's loose, spastic, and energetic sound is completely unique and not easy to pin down. Lance Romance is a quirky songwriter who's both of the anti-folk scene and the edges of the sort of the RISD-ish/Load records school of noise. Super-prolific, and quite the songwriter to boot, Mr. Romance has now been performing with improvised bands of late. Be nice and maybe he'll explain how to make pancakes. The Bemus Point is a duo that performs free-form electronic music with synths, theremins, and electronic gadgets. It's also the name of a resort town upstate - I think… Speaking of upstate, Old Table is a somewhat experimental rock band from Westchester County (not really that far upstate, but technically...) with former members of Blue Velvet. Good fun for a Sunday night?

Calla, Lake Trout - Maxwell's $10: Calla's fuzzyheaded downer-pop is finding a more focused and cinematic edge and may be perfect for a cold February night. Openers Lake Trout play some well-conceived proggy and experimental layer-rock. Again worth the trip on the PATH train.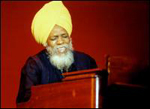 Dr. Lonnie Smith Trio, Iridium, $25-27: Turban-topped Hammond B3 master Dr. Lonnie Smith is one of those rare artists who has been able to cross effortlessly back and forth between the jazz and r&b worlds without having to abandon his style – which is a bit more subtle than Jimmy Smith or McGriff, but every bit as soulful.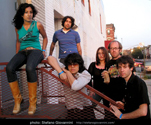 Benefit for the Banana Milkshake Project - Eugene Mirman, Demitri Martin, The Netherlands, Tigers & Monkeys, Aloke – Pianos $12: I don't know what the Banana Milkshake Project is but they're having a benefit tonight. In addition to comedians Eugene Merman and Demitri Martin, there's rock'n'roll. The Netherlands includes Timo Ellis and Sam Koppel from Yoko Ono's Band. Ellis also played with Cibo Matto and Sean Lennon. Tigers and Monkeys are the solo project of the lovely and talented Shonali Bhowmik – a recent Atlanta transplant of Ultrababyfat fame. And Aloke plays dark heavy composed rock with very little comedy in it. Somethin' to do if you enjoy comedians - and bands.
Jenny Lewis and The Watson Twins Angel - Orensanz Center for the Arts $20: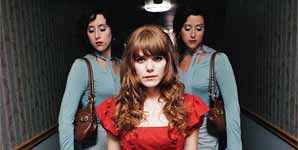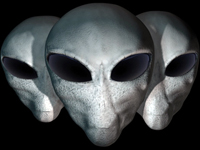 This is less a recommendation than something I needed to get off my chest before I go outside this early Sunday afternoon. Let me initiate the inevitable forthcoming conspiracy theory conversation about the actress/Rilo Kiley-half being either a robot, alien, or at least some sort of clone. I want to preface this by explaining my take on this gal and her music. If you've at all opened a magazine or gone online in the last couple of weeks, everybody's been gushing about a woman who, I am making a safe prediction, will be in the CD players of our parents within the next year - from Pitchfork to Entertainment Weekly. While all kinds of indie folks have been thrilled to discover really safe and smooth country-tinged contemporary folk, moving here from Austin, I remember this sound from this local adult contemporary station that everybody's boss tuned in to – for the Kerrville folk festival is the Kenny G. of that particular berg. This is the kind of fare you heard when local TV tried to sell you Blue Bell ice cream or whathaveyou. And, don't get me wrong, Lewis, like the lady in the Blue Bell ad, can definitely sing. Plus her stuff is produced to perfection and with taste – but you could say that about lots of commercial music. And yes, she pities herself (it's what you do in country) by employing a few more interesting and offbeat lyrical devices than the southern California fashion-hippy-cowpokes of the earlier generation (not that Glen Frey couldn't also be perverse). I think I'm losing track of my point here as I indulge in my favorite past time of raining on everyone's parade (and I certainly wish I had started writing this site in time to explain to everyone why Sufjan Stevens is such a hack). The point of this early Sunday afternoon ramble is simply – look at her – her voice is flawless - look at those two genetically engineered girls behind her – one big Siamese waxy-skinned Doublemint ad! In that picture you see on every web page they look like they're in some sort of distopian sci-fi corridor. They're either synthetic or, if organic, not of this world. I personally am going to cast my vote for alien instead of robot simply because of some good old-fashioned photographic analysis. Take a close look at Jenny's head - i the photo - big eyes, big forehead, wide thin-lipped slit of a mouth – and pale. If by some slim chance she be a robot, she's clearly modeled after an extraterrestrial. But why would the Los Angeles indie music-come-mass entertainment industry bother to make her look like an alien? She's gotta be the real thing. Oh LA. Jenny and her weird twins are talented and capable all right, but doesn't anybody ever want any bacon fat in this type of music anymore? This is Steely Dan man! Doesn't it seem abit too perfect? Am I the lone voice out in this wilderness? But really, even if she's not for real –I wanna know who her publicist is. Maybe its just the disproportionate media attention that's getting to me. I am a playa hater and she's fine. Enjoy the show.
Go to NYNT's Live Archive here.