Live Recommendations for Saturday, February 6, 2006
For this week's New York Night Train show list - go here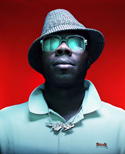 Beans, Stiffd - Nublu $5: Beans, who's dropped a couple of bumpin' solo albums since Antipop Consortium split, describes himself as "The Ornette Coleman of this rap sh*t / The link between Suicide, Sun Ra and Bambaata is Ballbeam." While he might not be exactly that, he has some of the best flow going and some funked-up electro behind him.
Steve Shiffman & The Land of No, Picastro, Lonesome Rhode, Slow Dazzle - Cake Shop $6
Like a lot of my favorite stuff, Picastro are hard to place, but have really intricate compositions punctuated with more than a few musical surprises – and seem to know how to swing it. Toronto songwriter Steve Schiffman's band The Land of No play some fine lo-fi Stonesy rock and twangy ballads. Lonesome Rhodes features members of the two lush and layered ensembles Argentine and Shoes and Rider. And, Slow Dazzle, named after the 1970s John Cale record, and featuring Mendoza Line's Shannon McArdle and Timothy Bracy, create fuzzy mellow post-Velvets tenderness with male and female vocals.
Low, His Name is Alive - Bowery Ballroom $15: Low're still at it and if you love 'em, you really love 'em. And, if you don't you're probably like me and at least respect 'em. And His Name Is Alive continue to play their intricate adult indie rock.
The Moonlighters -Rodeo Bar: The Moonlighters are the brainchild of Bliss Blood of Painteens fame. While Bliss is a noise-rock goddess, she's also done a few lighter things such as Michael Gira's Angels of Light. The Moonlighters are an all-accoustic Hawaiian band who do lots of beautiful Andrews sisters harmonies. I haven't seen them since they had Daria from Mellowmane and Henry from Helmet, but will definitely warm up a February night

Monumentals, Richard Bacchus - Rothko: The Monumentals have been at it for some time and have rightfully earned their place as one of New York's best party bands that exist on the sort of hard-rocking mid-tempo Motorhead/Kiss/ACDC side of punk.
Go to NYNT's Live Archive here.