Live Recommendations for Thursday, February 9, 2006
For this week's New York Night Train show list - go here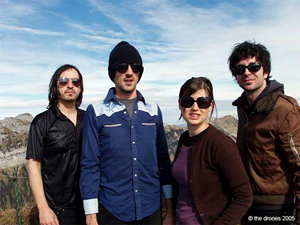 The Drones, Mike Wexler, The End of the World - Knitting Factory Main Space $12: Don't let the name fool ya – no Earth here. Plus, if they were a drone band, they'd be called simply "Drone." The Drones will remind you of a lot of your favorite raw heavy dark Americana-informed post-Stooges Australian bands - from Radio Birdman's Radio's Appear on their straight rockers to Beasts of Bourbon's Axeman's Jazz on their reverbed out numbers, or a ballad that will remind you of Birthday Party's "Jennifer's Veil" or a nugget filled with the messed-up grungyness from Lubricated Goat's classic Plays the Devils Music. Hell they don't even have to be from Australia – they could be the Gun Club for all I'm concerned. In the Drones you'll find a hard band that's way too tasteful too be metallic - but denser and more hypnotic than the others I mentioned previously. I wish I wasn't sick as a dog, because this is something I really want to experience – I bet these folks burn live. And, speaking of folk, Mike Wexler is opening. One of the best songwriters, singers, and musicians of his oeuvre, Williamsburg's Wexler plays imaginative compositions that feature his charismatic, enigmatic, and prismatic voice. I don't know who The End of the World is – all I know is that I hope they're named after the haunting Skeeter Davis version.
In the Country with special guest Marc Ribot plus Lars Horntveth (of Jaga Jazzist) $12: This doesn't sound bad at all – local avant-guitar god Ribot with a really fine contemporary Norwegian trio led by pianist Morten Qvenild from the electronica-informed orchestra Jaga Jazzist. Lars Horntveth, Jaga's sax man, also sits in. Will Marc go Euro? Will Lars lay down a dontown skronk?
Prism Concerts: Kabloona, Liek, Oriental Skulls, Loring - Glass House $5: This Prism event at the Glass House should be quite the soiree. Kabloona play lively almost Lounge Lizardy jazz – but not a throwback – just cool, fun, and groove-laden post-modernity. Liek is Hektor Fontanez's abstract electronics and guitar noise project. Oriental Skulls, are a new group that shares members with Kabloona and Owl Sounds – including Colour Sounds Recordings' boss/drummer Adam Kriney. Loring plays ethereal with a sweet voice. And did I mention free food?

Necking, Dan Deacon, Santa Dads, Stay Fucked, Not Talibam – Tommy's Tavern $5: Necking, combining members of Flight of the Buffalo and Aa, and like Aa itself, is drum-heavy stuff with ambient noise. Dan Deacon's goofy modernist music sits somewhere between the Residents, Carl Stalling, and an old Atari. Santa Dads may be one of the only ukulele-centric experimental duos going. Stay Fucked is really mathematical but fun almost Fucking Champsy punkish rock. And Not Talibam, as the name indicates, is not the Kevin Shea band that I often recommend here but that band without Kivin Shea - and playing rock. Todd P presents... Go already.

Lycaon Pictus, Mad Man Films, Lake - Cake Shop $6: Lycaon Pictus, featuring the singer and drummer from Challenge of the Future, is high-energy, super-minimal and very eighties. While Boston's Mad Man Films are a bit on the nineties side.
Sigur Ros, Amina – Theater at Madison Square Garden $39: Iceland's Sigur Ros serve up epic musical poems that seem to celebrate weather even colder than this (but they have the gulf stream). Their new Geffen record is less snowy and more multidimensional than before. And, as I've never been the biggest fan of their overall aesthetic – particularly the vocals, I'll have to hand it to 'em in terms of arrangement, musicianship, and creativity. Amina, the ladies responsible for a lot of the intricate layers of unusual instrumentation in Sigur Ros, open.



Go to NYNT's Live Archive here.