Live Recommendations for Tuesday, February 14, 2006
For this week's New York Night Train show list - go here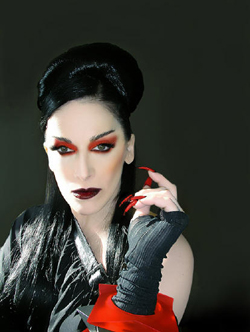 Today I break the rules and write about everything in terms of the holiday theme – and therefore have a bit more conventional stuff. Whether you're in love or lonely, it's either one of the most painful or banal or just merely irritating holidays in the book. Since we're all stuck with it for better or for worse, here's a few musical things to do to help ya deal:
The O'Jays - Apollo Theater $37-70: All and all the best valentine – the Philly sound is all about L-O-V-E and the O'Jays are not only the band of "Love Train," but take care of all of the other angles: "992 Arguments," "Use Ta Be My Girl," "Time To Get Down" – for everyone who ever loved, lost, or just got down.
Diamanda Galas Knitting Factory Main Space $20: Diamanda not only possesses one of the most unfathomable voices ever, but she's one of the more intense performers you're likely to ever encounter. I particularly love it when she sings the blues. This is for folks who prefer lonely chilling epiphany on their Hallmark holiday.
DJ Maxxbass, DJ Poppawheelie, and S>S>S (Seriously Sensual Seducxxxion) The Cake Shop Free: The DJ spin slowjams. S>S>S> plays a set – S>S>S> is "a one-off hot guys valentine band" with members of This Invitation, Bloodmobiles, The Cause Co-motion and Dancin Dogs. Additionally there's a bestiality booth, chocolate, awkward gropes from close friends, and sarcastic love karaoke. Neither bitter nor sappy, this'd be the most fun thing to do tonight.
The Syd Straw Heartwreck Show –Tonic $20: For a celebration of love's more catastrophic side, ex-Golden Palomino Syd Straw host's her annual Valentines Day extravaganza. This year it features Christine "the Beehive" Ohlman, Hahn Rowe, Konrad Meissner, Zora Rasmussen, Larry Saltzman and Plankton (Doug Wieselman, Jody Harris, Dave Schramm, Don Piper, Little Red Tiny Baby) and more.
Coliseum, Dear Tonight, Lords, Marching Teeth - Northsix $8/10: Normally I wouldn't recommend it, but for those of you who are just plain pissed-off today, there's nothing to sooth the soul like some fast loud hardcore. Louisville's Coliseum headlines, with locals Dear Tonight, Lords, and Marching Teeth. Ahhh… love.
Tom Jones - Nokia Theatre Times Square $65-$85: This is definitely for lovers, but gentlemen watch out! Though Tiger Tom is aging, your still may find your lady forgetting you and hurling her undergarments at the Welsh Elvis.
Freddy Cole Quartet - Jazz Standard $25: Nat King's brother Freddy is also one smooth crooner and fine pianist. If tonight deserves some very subdued and elegant jazz, this is the ticket.
Asylum Street Spankers - Joe's Pub $20: When I used to live in Texas in the 1990s I remember my friend Andy Haynes, standing as far as could be from the stage, getting shushed at Emo's when this band performed. Not only did they eschew amplifiers, but they were such purists that they wouldn't even mic the vocals or their instruments. But don't let this throw you off, they're pretty fun and play a pretty mean stew of early jazz, blues, country, Hawaiian, and other 1920s popular, folk, and novelty forms. I could see going solo or with a sweetheart.
'love fest': Bradley Eros & Rebecca Moore & Maria Chavez
& Gail Ward - Issue Project Room $10: This avant-garde performance space is doing a multi-media valentines with food.
Saint Valentine's Hapless Romantics - The Stone: For lovers who favor avant improv jazz, Matt Munisteri, Dave Hofstra, Barbara Merjan, Pam Fleming, and Rachelle Garniez play "nothing but love songs."
Go to NYNT's Live Archive here.