Live Recommendations for Wednesday, February 15, 2006
For this week's New York Night Train show list - go here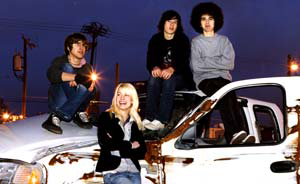 Rusty Santos, Gang Gang Dance - Cake Shop (midnight): After Reverend Jen's weekly anti-slam, the music begins. Producer/singer/songwriter Rusty Santos, while best known for his work with Animal Collective, makes gorgeous and exceptional acoustic pop informed by minimalist avant garde ideas. And Gang Gang Dance, who I compliment a bit too much should need no introduction. Last month at Syrup Room they debuted all-new material from the upcoming album they're working on with über-engineer/producer Chris Cody. So expect something new.
Be Your Own Pet, Detachment Kit, Cake Bake Betty - Knitting Factory Main Space $10: While Be Your Own Pet aren't aren't doing anything new, these cute little buggers 're doing everything right. The four Nashville teens play music that is a 21st Century take on that which is super-punk and super-rock, and they're super-real. Already they're as big a deal as a lo-fi short-fast song band could be in the UK - where they get lots of Yeah Yeah Yeah comparisons and the typical shower of overinflated hype that the li'l island off the coast of Europe tends to reserve for hot new bands. Catch 'em now before they get caught up in it all and inevitabely either evolve into something really cool, mature into something really ill-conceived, or stagnate into something stale. It's their rare moment and, in the future, as always, people will say their first record is their best – even though it doesn't exist yet. A rare moment when I actually appreciate a young contemporary take on punk. Detachment Kit have been around forever and, while they haven't always been my cup of tea (it's not them, it's me - the singy singing, octave chords, and other hallmarks of indie pop, rock, and emo - all of which I wish I could stomach after all these years), I've always respected them for standing out from the pack by constructing quality dynamics, harmonies, and songs - and even moreso for performing live with incredible power, precision, and sweat. Its been a long time for me and their new stuff seems more sophisticated than ever - so I'm about due for another visit. Cake Bake Betty plays Songs About Teeth, cannibalism, and other delights. Her lyrics not only contain extraordinary subjectmatter, but are phenomenal in general. And, while her melodic pop-folk songs can tilt towards the generic, her more unusual numbers prove that she is a force to be reckoned with.
Cyro Baptista's Anthropo-Fagia – Tonic $10: Cyro Baptista is a Brazillian percussion celebrity who, in addition to performing with dozens of artists from his home land, played with a veritable who's who of a number of genres including classical, traditional jazz, avant jazz, hip hop, experimental, rock, folk – you name it. And I shit you not – who else has recorded with Eno, Melissa Etheridge, John Zorn, Yo-Yo Ma, and Jay-Z? Performing solo and with his band Beat the Donkey for the last few years, he's proven that he can make music that is both serious and playful.
Joe Fiedler - Barbes $8: Trombonist Joe Fiedler is one of the most respected instrumentalists in the Latin and jazz scenes, and has even made a headway in the experimental music world. He's also led his own band for the last few years – who perform tonight. And while I'm once again stating the obvious, trust me, he's a badass.
Zev Feldman (8PM), Peter Rushefsky (10PM), - The Stone $10: Tonight both of these guys perform solo improv cymbalom sets. So here's your chance to learn about an exotic instrument you've probably never heard of. The cymbalom is an eastern European dulcimer of sorts played with curved wooden hammers – but also can be played with eight thumbpicks on each finger. Learn more here.
Go to NYNT's Live Archive here.