Live Recommendations for Thursday, February 16, 2006
For this week's New York Night Train show list - go here. Click the names in bold to learn more about the artists.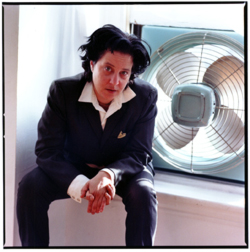 Thalia Zedek & Town and Country - Tonic (10pm) $10: For those of you who don't know underground legend Thalia Zedek, she's one of the most distinctive voices out there - a top-notch songwriter and performer with quite the impressive solo career since here years in Come, Uzi, and Live Skull. Tonight she'll be joined by her Trill Jockey label-mates, Town and Country – a Chicago quartet that plays intricately layered modern acoustic post-post-rock or, as their label says, "front porch minimalism."
The Like, Nethers - Knitting Factory Main Space $8: DC's Nethers are one of the first neo folk band I've heard in some time that has made me reconsider whether or not this thing is over and whether most of it was even worth listening to at all. Their music is bouncy, organic, and artfully subtle with narrative-based lyrics with offbeat themes. Distinct, well-conceived, and lightly psychedelic, Nethers are something both to watch and watch out for. Daughters of rock stars, the headliners tonight, LA's The Like are even younger than the Nethers and already quite an accomplished pop act.
Good Morning Scelsi: Ensemble Dissonanzen with Marc Ribot - Tonic (8pm): Here local guitar hero Marc Ribot teams up with Naples contemporary avant garde group Ensemble Dissonanzen to perform pieces by Italian composer Giacinto Scelsi - along with with Ribot's "Scelsi Morning." Ribot will not only play guita, but conduct as well. Marco Cappelli plays guitar and bass, Ciro Longobardi on piano, Claudio Lugo on sax, and Tommaso Rossi on flute.
Ikue Mori's Bhima Swarga - The Stone (10PM) $10: Ikue Mori embarked upon an unusual voyage in the 1970s as the drummer for DNA which has led her to drum machine improvisation in the 1980s and sonic laptop manipulations for the last few years. She collaborates with everyone from Kim Gordon to Susie Ibarra to Jim O'Rourke to, of course, John Zorn in Hemophiliac (Mike Patton) and electric Masada. Tonight Ms Mori goes to town alone on her laptop – working with audio/visual improvisations playing on Balinese folk art.
solo/renku - ISSUE Project Room $10: Saxophonist Michael Attias plays solo alto and then is joined by a couple of fellow-musician/composers, bassist John Hebert and percussionist Satoshi Takeishi, to perform pieces by composers Anthony Coleman, Fred Lonberg-Holm, and Russ Lossing.
Sylvie Courvoisier/Ben Perowsky - The Stone (8PM) $10: Both Masada veterans, ex-Lounge Lizard and prolific downtown drum god Ben Perowsky joins Swiss piano virtuoso Sylvie Courvoisier get together to roll the Stone.
Go to NYNT's Live Archive here.