For this week's New York Night Train show list go here. For information about the venues go here. Click the names in bold to learn more about the artists.
Live Recommendations for Monday, March 6, 2006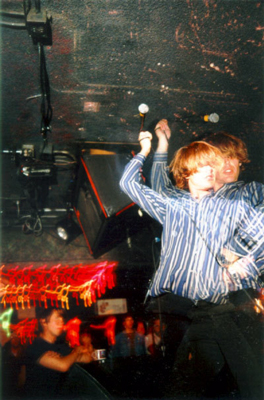 GOGOGO AIRHEART
GoGoGo Airheart, The Jai Alai Savant, Subtitle - Lounge $10:
If I had to pick only one show tonight, it'd definitely be the Gold Standard Labs bill at the Mercury Lounge. Headliners GoGoGo Airheart are finally starting to get the recognition that they deserve after a decade of constant recording and touring. Melding dub beats, bouncy grooves, and noise guitar with a distinctive voice since the beginning, the San Diego quartet offered what is perhaps their most ambitious effort yet with last year's with Rats! Sing! Sing! At this point they're one of the best things going. Chicago come Philly trio Jai Alai Savant offer a more punk and contemporary update on the pop/reggae fusion of The Police. And you gotta get there early because Los Angeles hip hop legend Subtitle of Project Blowed fame is kicks off the festivities. Subtitle deserves way more than the couple of sentences you find in this recommendation for his unusual visionary take on music which falls within the underground rock, experimental, and hip hop lineages. Gold Standard's package proves that they got it going on more than ever. So,… go… go… go…
Also recommended:
Racebannon, Old Ghost, Birthday Boyz, Celephais - Cake Shop $6
Japanther, Dada Swing, Right Moves - GOODBYE BLUE MONDAY (1087 Broadway, Bushwick - www.toddpnyc.com) $6
The Wedding Present, Sally Crew and The Sudden Moves - Maxwell's $15
Mogwai, Growing - Avalon $19
Taylor Ho Bynum Sextet, Mostly Other People Do the Killing – Tonic $8


Go to NYNT's Live Archive here.