For this week's New York Night Train show list go here. For information about the venues go here. Click the names in bold to learn more about the artists.
Monday, May 1, 2006
Today's is significant because its my first attempt to include downloadable audio samples with the recommendations. So start listening...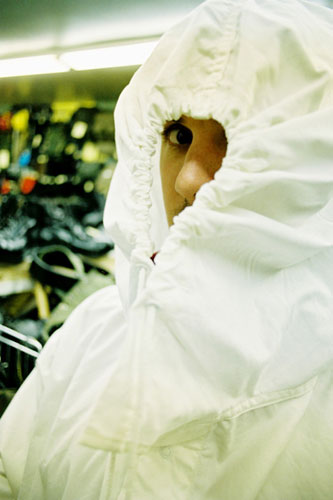 Mt. Eerie, Thanksgiving, Jason Anderson - 98 Ingraham Street $10:
This show is consists of three northwestern solo artists who go by a number of aliases. The headliner, and reason for this recommendation is K Records' The Microphones, AKA Phil Elverum, who's been going by Mt. Eerie the last couple of years. For those of you who haven't heard him since The Microphones days, his music gets more expansive, sophisticated, and ambitious over time. While his homegrown recordings have become the highest fidelity of lo-fi universe - rich, spacious, and gigantic – live it'll be more barebones by necessity – either with a band or alone accompanied only by his guitar. If you'd like to hear what he's all about as Mt. Erie, check out these two songs: Universe (MP3) and Lanterns (MP3). Elverum also has his own label, P.W. Elverum & Sun, Ltd and one of his artists is Portland's Thanksgiving, i.e. prolific Portland singer-songwriter Adrian Orange who also performs with the instrumental trio The Watery Graves of Portland. Opener Jason Anderson, otherwise known as Wolf Colonel, and also on K Records, is a more strummy and traditional troubadour.
Feu Therese, Tokyo Police Club - Mercury Lounge $10
I also thought you might be interested in the artful post-rock noise of a new-ish Montreal band on Constellation, Feu Therese. I don't know much about them myself and I couldn't find you any MP3s, but this page includes a stream of a song from their self-titled debut LP.
Home, Megan Reilly - Tonic $8
Home is back! Check out "Our Blue Navy" , "Blame It" , "Tres ci est" , "My Name Is John"

PG Six, Anti:clockwise, Neg-fi, Seekonk - Knitting Factory Tap Bar $7
Reverend Vince and His Love Choir – Black Betty FREE
The Moonlighters – Rodeo Bar – FREE
Vague Angels, Larune's Bulgaria - Cake Shop FREE
These four are excellent local weekly residencies, and, with the exception of PG Six, are FREE! Upstate's PG Six is is one of the best of the many anglophile folk acts that've been popping of late. The incomperable Reverend Vince Anderson, back from Europe, resumes his longstanding reign with the equally incomperable all-star bunch of musicians known as His Love Choir at Black Betty - you will see the light. While his recordings have yet to succeed in capturing what he's about live, a few examples follow. And, if you were wondering what became of Texas noise rock legend Bliss Blood of the Pain Teens, among her many projects, she fronts the Hawaiian-themed accoustic vocal harmony quartet, The Moonlighters - and has some serious pipes. Finally, Vague Angels is the new accoutic project of notorious local good guy/ex-Lapse, Van Pelt guitarist/brother of Ted, the lovely and talented Chris Leo.
PG Six
- Divine Intervention MP3
- Old Man on the Mountain MP3
Reverend Vince Anderson and his Love Choir
- Tryin to Be An Asshole (But I've Got Jesus) MP3
- Satan Hates Me MP3
- Fallen From the Fray MP3
The Moonlighters
- My Blackbirds Are Bluebirds Now MP3
- Hello Heartstring MP3
Vague Angels
- Vague Angels of Vaguery MP3
- The Princess and the Newt MP3


Go to NYNT's Live Archive here.
© New York Night Train , 2006