For this week's New York Night Train show list go here. For information about the venues go here. Click the names in bold to learn more about the artists.
Tuesday May 2, 2006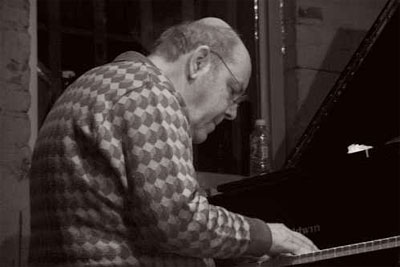 Misha Mengelberg, Ikue Mori – The Stone $10:
Tonight marks the beginning of Dutch composer/pianist/theorist Misha Mengelberg's week at The Stone. Melenberg is a towering figure in international jazz, experimental, and classical music. His tenure in the European avant garde dates back even further than his association with the Fluxus movement in the early 1960s. His work in the conservatory and the jazz scene led to his gig backing Eric Dolphy with drummer Han Bennink. They even performed at Dolphy's final appearance in 1964 – which was later released as Last Date. The two then went on to found Instant Composer's Pool (ICP) Orchestra and collaborate with Cecil Taylor, Dudu Pukwana, Peter Brozmann, and other accomplished artists. Mengelberg even infamously collaborated with his wife's parrot Eko. His other important contributions include his early experiments with electronic music and his founding of the absurdist Dutch "music theater." Mengelberg continues to prolifically compose and perform solo, in collaboration, and with the ICP Orchestra.
This week he collaborates with a number of forward-thinking figures from all over the musical map: Brad Jones, George Lewis. Eugene Chadbourne, and Mat Maneri. Tonight he performs alongside downtown experimental music legend Ikue Mori. Since her role as DNA's drummer in the late-1970s, she's experimented with a number of mediums including drum machine improvisation in the 1980s and, for the last few years, audio and visual laptop manipulations. In addition to previous work with Mengelberg, she's worked a diversity of artists including Kim Gordon, Susie Ibarra, Jim O'Rourke, Hemophiliac, and electric Masada. Should be quite a night and quite a week….
MISHA MENGELBERGAUDIO SAMPLES:
ICP ORCHESTRA
- Carlo's Lament/Ever Never MP3
- Mood Caliente MP3
- Oh My Dear MP3
- Rollo II MP3
SOLO PIANO:
- Adagio MP3
- Intermezzo MP3
- Solo Misha MP3

P.S. Soft Circle (AKA Hisham formerly of Black Dice and Lightning Bolt) does amazing stuff and is on a great bill at Tonic with Child Abuse and Sic Alps. Culture, who's a S.O.B.'s, has been one of the finest harmony vocal groups in t roots reggae since the 1970s. Free Blood is a madcap !!! side project that I prefer to !!! and they at Union Pool with Hundred Eyes who feature Nick from Viva l'American Deathray and the remains of Tall Boys - I believe this is Hundred Eyes' last performance before setting sail for All Tomorrow's Parties. And, speaking of All Tomorrow's Parites, good luck getting into the sold-out Yeah Yeah Yeahs show with NYNT faves the Black Lips as support. Look below for more details
Also:
Aa, The Dead Science, Ill Ease, Sharks With Wings, Blastocyst - Goodbye Blue Monday (Todd P) $6
Books on Tape, OMAC, Captain Ahab, The Handshake - Northsix $10
Catfish Haven, Jennifer O'Connor, Mascott - Rothko $8
Culture - S.O.B.'s $20/$22
Dorothy Masuka & Bakethi Kumalo – Joe's Pub $20
Dreadful Yawns, Doug Keith - Cake Shop $5
Free Blood, Hundred Eyes, Vizusa – Union Pool (Todd P) $6
Soft Circle, Sic Alps, Child Abuse - Tonic
Susquehanna Industrial Tool and Die Co. – Rodeo Bar FREE
The Brand New Heavies, N'Dea Davenport, DJ Spinna $25/$30
Yeah Yeah Yeahs, The Black Lips - Roseland Ballroom $28
Go to NYNT's Live Archive here.
© New York Night Train , 2006