For this week's New York Night Train show list go here. For information about the venues go here. Click the names in bold to learn more about the artists.
Wednesday May 3, 2006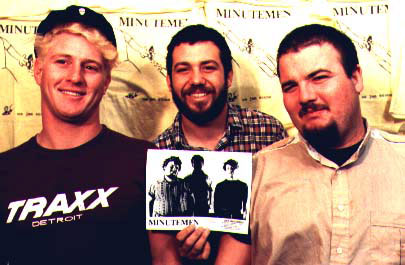 We Jam Econo: The Story of The Minutemen– Northsix $8:
If, like me, you missed Tim Irwin's Minutemen documentary We Jam Econo the last couple of times it was around, here's another chance – which may be your last because it come out on video at the end of June. I personally can't think of a more appealing subject than one of the most interesting, most enduring, and, frankly... best, bands ever. The film includes archival footage and over fifty new interviews with folks from their SST labelmates (Saccharine Trust, Black Flag, Meat Puppets, Husker Du, Sonic Youth, etc.), to predecessors like Richard Hell and Colin Newman, to their producer Spot, to artist Raymond Pettibon, to critics like Byron Coley and Richard Meltzer. The classic footage, which is mostly from 1984 and 1985, also includes Spot's rare video of a 1980 show at the Starwood. If punk rock changed your life, than this should be your history lesson. Years later, The Minutemen remain vital... and real motherfucker…
VIEW THE WE JAM ECONO TRAILER!
- Large
- Medium
- Small
While we're on the subject of the Minutemen, there's an uncommon quantity and quality of web materials out there for old fans and new. Don't forget to check out one of the best and most useful sites I've ever come across, Corndogs.org - which is a virtual treasure trove of source materials: videos of live performances, interviews, and music videos, recordings of live shows, alternate takes, and rarities. Then there's also Mike Watt's obsessive Hoot Page. For photos, D Boon obits, interviews, articles, set lists, and more, there're quite a few great ones in the Minutemen section of the Watt tribute page What Makes a Man Start Fires. For an obsessive discography (as you know, the Minutemen appeared on dozens of comps, cassettes, etc.) go to Discography: Minutemen, Firehose, Watt.
Here are a few later versions of pre-Double Nickels hits from Corndogs.org:
"Cut" Live in Miami 1984 MP3
"Dream Told By Moto"WREK Atlanta 1985 MP3
"Beacon Sighted Through The Fog" Live at Berkeley Square 1985 MP3
Also:
Brad Jones Band with Misha Mengelberg – The Stone $10
Mercury Lounge $10
Puracane, The Looking , Dana Kletter – Tonic $7
Sunburned Hand of the Man, Ira Cohen, Believers, Can't
Yeah Yeah Yeahs, The Black Lips - Roseland Ballroom $28
Go to NYNT's Live Archive here.
© New York Night Train , 2006