For this week's New York Night Train show list go here. For information about the venues go here. Click the names in bold to learn more about the artists.
Friday May 5, 2006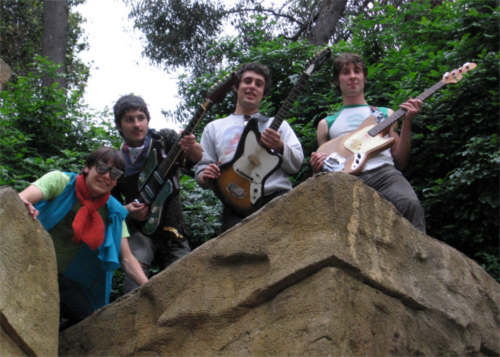 Black Lips, Soldiers of Fortune, Mountains of Mattalama – Place (Todd P) $8
The Black Lips are always in town – and that's always a reason to celebrate. This time The Yeah Yeah Yeahs brought 'em in to open their Roseland shows. And with good reason - this Atlanta Quartet is one of the best and hardest working bands in showbiz. One of Greg Shaw's final discoveries, when I first saw them in Siberia's basement a few years ago, I couldn't see what the hubub was all about - they were pretty much like any other band except that they were perhaps a little drunker, more energetic, and… more naked than most. Quite a bit has changed since then. The Lips, for their last two records, have climbed to the top of their game - abandoning their garage punk roots and ascending further in further into what they call "Flower Punk" – which is actually something that'll remind you of early Love, The 13th Floor Elevators sans jug, The Seeds, The Count Five, and all of that other good stuff that helped give birth the psychedelic sound but was still rooted in two-dimensional frat rock, or what we call garage. It was the sound of incomplete transformation - the sound of bands growing their hair out but not yet at their destination (I guess I could also use The Beetles or The Beachboys in this but it just ain't as accurate). 1966 was an great transitional year in American music simply because the bands were more creative, ambitious, and interesting than the year before - yet rocked harder, with more butt and more compact song structure than they would the next year. So, like the class of 1966, as opposed to the class of 1965, what sets The Black Lips apart from the rest of the garagesters is their willingness to experiment and their melodicism - plus it doesn't hurt that they write better songs. and have more booty. But all you care about is the bottom line and, yes, the answere is that they'll rock yr Friday night.
Soldiers of Fortune are a local supergroup of sorts with Brad Truax of Home and Jah Division, Kid Millions of Oneida and everybody, Papa Crazee of Oakley Hall (ex-Oneida, Main Drag), Barry London of Jah Division (ex-Knoxville Girls), and Mikey Bones. Mountains of Mattalama open.

SOUNDS:
BLACK LIPS
- "Boomerang" MP3
- "Hippie Hippie Horah" MP3
- "Sea of Blasphemy" MP3
Also:
Boss Tweed – Magnetic Field $5
General Miggs, Skeletonbreath – Tommy's Tavern
L-D Section II (Lansing-Dreiden), Dragons of Zinth, Mirror Mirror - Tonic $10
Minus the Bear, Mewithoutyou, Russian Circles - Warsaw $14
Misha Mengelberg, Eugene Chadbourne – The Stone $10
Oxford Collapse, The Narrator, The Punks, The End of the World, The Pathways - Cake Shop (Todd P) $7
see hear please! - new investigations in audiovisual performance curated by aki onda w/Kanta Horio, Zachary Lieberman, o.blaat – ISSUE Project Room $10
The Books, Todd Reynolds - Northsix $15/$18
The Hanuman Sextet – Tonic $5
Tumen Ekh: Music and Dance of Mongolia – Asia Society $20
Go to NYNT's Live Archive here.
© New York Night Train , 2006