For this week's New York Night Train show list go here. For information about the venues go here. Click the names in bold to learn more about the artists.
Thursday May 11, 2006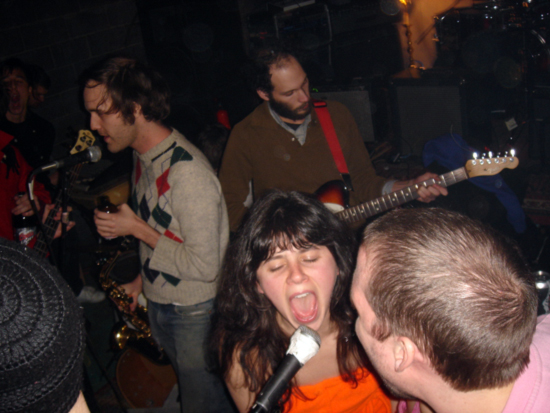 photo by Jennifer Krako
One Year Anniversary Party with The Concretes, Bill Cosby and His White Pudding Pops, Cause Co-Motion, The Woods, S-S-S-Spectres – Cake Shop
Somehow Cake Shop's made it for an entire year. Don't get me wrong – I love the the venue – but that's why I'm surprised. The rent on that street's astronomical and most of the new businesses are, well, you've seen it, yuppie watering holes and bistros, fashion boutiques, etc. That's right, Cake Shop is the first decent business to open on Ludlow, or that general vicinity, in recent memory. And to celebrate, they've got a raging bill headlined by Astralworks Swedish pop octet The Concretes. Bill Cosby and His White Pudding Pops, the Brooklyn party band, who, last time I saw 'em had more members than The Concretes, and were either awefully brilliant or brilliantly aweful. Cause Co-Motion is a nifty little band that you may remember from their recent performances with their "What's Your Rupture?" bandmates Love is All. Tody also celebrates the release of their new single which is the first release on the Cake Shop's own imprint Cape Shok. Also, get there early for S-S-S-Spectres – a superb angular trio that features a couple of former Texas underground rockstars. Or even better, get there at 8 for the free Macau beer and ginger snaps. Or better yet, for happy hour (between 5 and 8) and you get to watch videos of Gang Gang Dance, The Bats, and Long Blondes live at the Cake Shop with two for one drinks. What the heck, camp out. DJ's include Shirley Beans, Jeff Lightning Lewis, Stella and Liane of Tralala, Barfly, and Dawg. If this sounds like an ad, whadda ya think these type of things are for anyway?
MEDIA:
The Concretes - "Say Something New" MOV
Bill Cosby and His White Pudding Pops "An Emo Song" MP3
Cause Co-motion - "Baby Don't Do It" MP3
S-S-S-Spectres - "Your Faux Pas" MP3
Also:
Chinese Stars, Know Your Enemy, The Sea, Like Lead, Hoover Flags - Northsix $10
Freddie Hubbard & the New Jazz Composers Octet – Iridium $30
J.D.Parran – The Stone 10PM $10
Lisle Ellis's Audible Means – The Stone 8PM $10
McCoy Tyner Trio with Savion Glover - Blue Note $30/$45
Na, The Can Openers – Tonic $8
Newton Armstrong, Cor Fuhler, Nate Wooley – ISSUE Project Room $10
Steven Bernstein's Millennial Territory Orchestra – Tonic 8PM $12
The Silent League, Other Passengers, Kid Casanova, Christiansilva - Sin-e $8
Go to NYNT's Live Archive here.
© New York Night Train , 2006