For this week's New York Night Train show list go here. For information about the venues go here. Click the names in bold to learn more about the artists.
Saturday May 13, 2006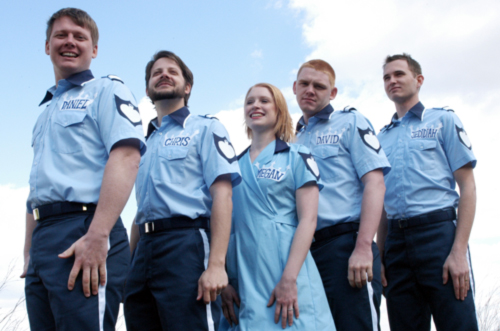 Danielson, Saturday Looks Good To Me, Jeffrey Lewis, Cheyenne - Northsix $8/$10
You gotta give it to the Danielson Family for doing what they did when they did it. They were certainly an influence on much of the somewhat experimental multi-layered quirky indie pop that dominates today. But, despite some of the fresh musical ideas, I could barely bare to watch them in their costumes and posturing. I guess it was too cutesy, schticky, and... frankly, like a nineteen year-old's college art project (which it sort of was). Then there was the Christianity. But on record, when ya didn't have to look at 'em, it fared a bit better. Regardless, I haven't thought about these folks for some time and, out of nowhere comes Danielson's new project, Ships – and I gotta say that it's by far the best thing I've heard from him – more mature, sophisticated, straightforward, and real – this time the weirdness feels much more purposeful and an integral part of the structure. I'm beginning to admire this fella. It'd be interesting to see what he does live at this point.
P.S. If you've got the afternoon and early evening open, high-tail it to Grand and Havemeyer for Vietnam, The Comas, and a few more for free outdoors.
MEDIA
"Did I Step On Your Trumpet" MP3
ALSO:
A Mother's Day Concert: Lois Vierk, Gisburg, Miya Masaoka, Mari Kimura, Kitty Brazelton, Daphna Naphtali – Tonic $10/$12
Flow14, Wormsmeat, High Society – Tommy's Tavern
McCoy Tyner Trio with Savion Glover - Blue Note $30/$45
Mogwai, Torche - Webster Hall $20/$23
New Lou Reeds, Used to be Women – Northsix downstairs $8
Old Haunts, Miami Ice Machine, Terset – Cake Shop
Pretty Girls Make Graves, Giant Drag, The Joggers - Irving Plaza $15.75/$17
RANA, Apollo Sunshine, The Brakes - Knitting Factory Main Space $10/$12
The Ex-Boyfriends - Mercury Lounge $10
The Faunts, Cricket Spin - Knitting Factory Tap Bar - $8
Vietnam, Whiteshoes and the Nightmares of Nashville, The Comas, Jeremy Youcum, The Roulette Sisters - Grand Street Block Party FREE
Wadada Leo Smith and Tyshawn Sory – The Stone 10PM $10
Wadada Leo Smith Solo – The Stone 8PM $10
Wide Right, The Brought Low, Dirty Excuse – Magnetic Field $7
Youngblood Brass Band, Dub Trio, The Inbetweens – Tonic $10
Go to NYNT's Live Archive here.
© New York Night Train , 2006