For this week's New York Night Train show list go here. For information about the venues go here. Click the names in bold to learn more about the artists.
Sunday May 14, 2006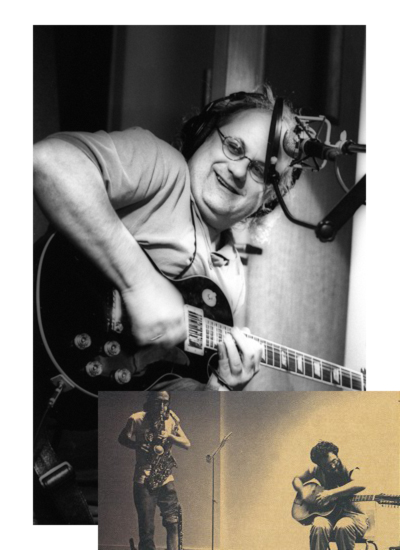 Eugene Chadbourne and John Zorn – The Stone 8PM $10, Eugene Chadbourne Solo – The Stone 10PM $10
This is the kind of thing that I thought I'd be seeing all the time when I moved to New York. Now its eight years later and I take folks like John Zorn for granted because they are so much a part of nightly local listening. And Eugene Chadbourne, a favorite guitarist of mine for many years, is also in town frequently enough that I tend to forget about him. Out of the hundreds of folks these two have collaborated with, in thousands of performances, and hundreds of recordings, across a vast swath of subgenres, the duo have continued to play together off and on for thirty years. The pairing of these twin towers in the world of contemporary music is due to the fact that this month's shows were to be curated and performed by one of the most important figures in improvisation and its drift from jazz, Derek Bailey, before his untimely death in December. So tonight's show, as well as all the others this month, are dedicated to this composer/theorist/musician who had such a huge impact on both Zorn, Chadbourne, and countless others. If you stick around you'll get a solo set of Chadbourne's twangy soulful goofy take on Bailey's percussive atonalism.
MEDIA
Eugene Chadbourne: "Serenity" MP3
Eugene Chadbourne: "New New New War War War" MP3
Eugene Chadbourne and Jimmy Carl Black: "Hot Rats" MP3
ALSO:
Christina Courtin, Doveman - Tonic
Doveman, Scott Matthew, Christina Courtin – Tonic $8
Freddie Hubbard & the New Jazz Composers Octet – Iridium $30
General Patton vs the X-Ecutioners – Irving Plaza $25
Harry & the Potters, Jason Anderson - Northsix
McCoy Tyner Trio with Savion Glover - Blue Note $30/$45
The Silent League, Other Passengers - Union Pool
World/Inferno Friendship Society - Off Concert Cruises, Skyport Marina 5PM $20/$25
Go to NYNT's Live Archive here.
© New York Night Train , 2006