For this week's New York Night Train show list go here. For information about the venues go here. Click the names in bold to learn more about the artists.
Monday May 15, 2006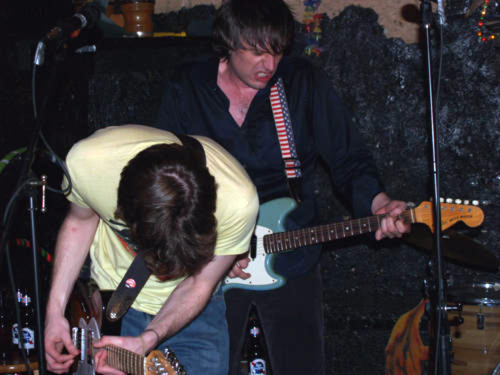 Teenage Prayers
KEXP Live Broadcasts: TONIGHT: Bill Janowitz, The Diggs, The Mugs, Teenage Prayers,
THIS WEEK: TUES: Goldfrapp, Ghostland Observatory, Favourite Sons, The GoStation, Up the Empire, WED: We Are Scientists, Summer Lawns, Ambulance Ltd., French Kicks, THURS: Alpha Rev, The Budos Band, Dylan In The Movies, Pablo, FRI: The Essex Green, Elvis Perkins, Dr. Dog, Land of Talk - Gigantic Studios FREE:
All week Seattle's KEXP is broadcasting free shows from the legendary Gigantic Studios downtown. "Where the music matters," KEXP is wildly popular public station. While they have specialty shows in the evening, most of their programming, what they call "Variety Mix," looks more like the present/near future of mainstream broadcasting than public radio. Out of the four songs I've heard so far this morning, three were on a major label, Yeah Yeah Yeahs, The Sun, and Radiohead and one was on an independent – albeit the world's biggest, Sanctuary, and the artist was the noneother than Morrissey. I have no problem with a corporate format, I just hope that the success of operations such as this don't spill over any more than they already have into the public and college realms as I don't see why taxpayers and donors need to help Warner Brothers promote its wares. But I guess I'm just one of those old-fashioned folks who believes that the left of the dial should be reserved for art and information that isn't represented on the right of the dial. Unless Sparks and L Magazine are offering up more sponsorship than I imagine for these folks to cover huge expenses like renting out Gigantic for a week, I have a feeling that KEXP has a bit more dough than other public station.
But perhaps I'm being too harsh on KEXP. The station does pepper their programming with new artists who are either self-released or on independent labels. This week they're bringing all kinds of indie bands – from local unsigned to major label ones into Gigantic. The public can attend for free. I just turned them on to hear one of the only bands that I like this week, Teenage Prayers, a Brooklyn band that bridges the gap between mid-1960s British pop and Stax soul. Most of the fare on the live broadcast represents the more middle-of-the-road commercially oriented pop-song-based music that people call "indie" these days – none of which, at its most adventurous, would be out of place on a national TV ad or in a major motion picture. But its not all bad and, if you want to attend, or check out the schedule for home and work listening, go here.
The reason I'm writing about this is that I think these shows are a great idea and I don't know why a New York station doesn't try to do something like this on a regular basis.

ALSO:
Ben Neill, David Watson and Katherine Liberovskaya – Location One $15
Goldfrapp - Irving Plaza $30
Kate Fenner, Chris Brown, Jenifer Jackson – Tonic $8
Olive Juice Music Night: Clint, Michigan, Randi Russo, American Anymen, Amy Bezunartea, DJ Major Matt Mason – Cake Shop $3
Reverend Vince Anderson – Black Betty FREE
Go to NYNT's Live Archive here.
© New York Night Train , 2006