For this week's New York Night Train show list go here. For information about the venues go here. Click the names in bold to learn more about the artists.
Tuesday May 16, 2006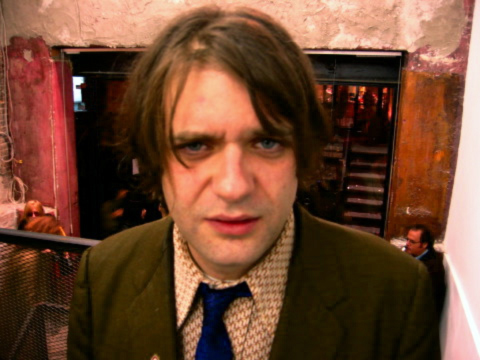 Jim O'Rourke - The Stone (8PM and10PM) $10
As I recommend yet another show from The Stone's month-long tribute to Derek Bailey, I assure you that I'm not on their payroll. It's just difficult to ignore improv performances in honor of one of contemporary music's towering figures by the likes of Misha Mengelberg, Thurston Moore, Eugene Chadbourne, and, tonight, Jim O'Rouke. Indie rock's most notorious insomniac, O'Rourke's produced everyone from U.S. Maple to Stereolab to John Fahey, been a member of bands like Gastr Del Sol, Red Crayola, and Sonic Youth, improvised in collaboration with folks like William Hooker, Ikue Mori, and Henry Kaiser, and made guest appearances on records by the likes of Nancy Sinatra, Nurse With Wound, and Wilco. Of course he's also found plenty of time to make a number of solo records. And I think he's only reached his mid-thirties. Though O'Rourke has done his share of pop and rock, tonight he plays my personal favorite of his many roles, experimental musician. You should check him out while you can because he's now devoting more time to his most recent obsession, directing movies.
MEDIA
MP3:
Jim O'Rourke: "Halfway to a Threeway" MP3
FULL SONG STREAMS (from Domino Records):
Good Times
Therefore I Am
All Downhill From Here
Please Patronize Our Sponsors
Happy Holidays
Ghost Ship In A Storm
There's Hell in Hello but More in Goodbye
Real Audio snippets (incomplete but too good to ignore)
Jim O'Rourke: "Mizu No Nai Umi" RA (original - 1990)
Jim O'Rourke, Tim Barnes and Karen Waltuch - "Mizu No Nai Umi" RA (live - 2003)
AUDIO INTERVIEWS:
WNYC Interview RA
The Wire Interview MP3
LINKS
An extensive Jim O'Rourke discography/filmography
A Jim O'Rourke fan site

ALSO:
6995, Bastard Trio, Whitebelt Octopus, Gunner – Cake Shop $6
Brinca Means Jump, Spielerfrau, The Affair, Nakatomi Plaza - R & R
Cameron Hull, The Friends Band, Quinn Walker - Glass House $5
Gospel, Year Future, Bellmer Dolls, The With Love – Goodby Blue Monday (toddpnyc.com) $7
John Hollenbeck's Claudia Quintet – Tonic 8PM $10
KEXP Live Broadcast: Goldfrapp, Ghostland Observatory, Favourite Sons, The GoStation, Up the Empire - Gigantic Studios FREE
Mandarin Movie – Tonic 10PM $10
Megumi and Junichi Matsuzaki – Location One $15
Oakley Hall – Cake Shop (7:45-8:45) FREE
Slavic Soul Party! – Barbes
Songwriter Series 5x5: Room, Pee Air, Jim Avignon, Alana Amram, Pharmacy & Garden - Detour FREE
Susquehanna Industrial Tool & Die Co – Rodeo Bar FREE
Transmission, Triangle, O Death – Brooklyn Fireproof (toddpnyc.com)
Go to NYNT's Live Archive here.
© New York Night Train , 2006