For this week's New York Night Train show list go here. For information about the venues go here. Click the names in bold to learn more about the artists.
Wednesday May 17, 2006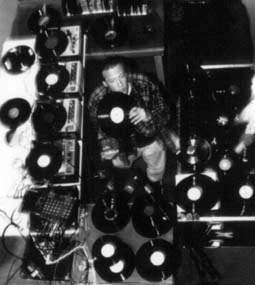 Christian Marclay with Elliott Sharp Trio, Okkyung Lee Trio - World Financial Center (Courtyard Gallery) FREE
The most interesting event happening tonight also happens to be a free event. Christian Marclay has created Screen Play, a "collaged film" and score that the Elliott Sharp Trio and Okkyung Lee will interpret. While Marclay is perhaps known best as a conceptual composer of found sound, particularly for his innovative experiments with turntables in the 1970s that occurred simultaneous to those of the Bronx hip hop scene, he is a multi-media artist whose prolific career has regularly interwoven music and visuals. Elliot Sharp, the guitar hero and composer behind everything from Carbon to his Terraplane, continues to crawl all over the musical map – last year alone his releases included an acoustic solo album and a collaboration with legendary Japanoise ear terrorist Merzbow. Equally adventurous Korean cellist Okkyung Lee, in addition to spending her six years in New York playing with an impressive mélange of avant jazz elite, legendary experimental improvisers, pop stars, and noise rockers like Butch Morris, Derek Bailey, Beth Orton, and Thurston Moore, she also performs exquisite solo pieces – many of which have been released on Tzadik. You can get tickets starting at 5pm in the World Financial Center's Winter Garden – only two per person. Go early because seating is limited.
MEDIA
Christan Marclay, "Apres Midi" mp3
Christian Marclay performance videos

Elliot Sharp's Terraplane, "Stop That Thing" m3u
Elliot Sharp's Terraplane, "Scramble"
Elliot Sharp's Terraplane, "Oil Blues" m3u
Elliot Sharp, "Riding the Pherebot Swarm" m3u
Okkyung Lee, "On a Windy Day" Real Audio file (Tzadik 2003)
Okkyung Lee's myspace songs

ALSO:
A.R.E. Weapons, Bloody Panda, Wetnurse, Ocean - Sin-e $10
Art Brut, Art Brut 47, Think About Life, The Chalets - Knitting Factory Main Space $16
Carla Kihlstedt and Zeena Parkins – The Stone $10
Christian Marclay with Elliott Sharp Trio, Okkyung Lee Trio (in the Courtyard) - World Financial Center FREE
Hopewell, High Violets, The Blend, Cake Bake Betty - Pianos $8
Jessica Feldman – Location One $15
joan la barbara: selections from woolfsong, an opera in progress
KEXP Live Broadcast: We Are Scientists, Summer Lawns, Ambulance Ltd., French Kicks - Gigantic Studios FREE
Naughty by Nature, Black Sheep, The UMCs – BB King Blues Club $25
performed by ne(x)tworks & special guests – ISSUE Project Room $10
Phoebe Kreutz, Yoko Kikuchi, Casey Holford, Nan Turner, Tommy and Linda, Major Matt Mason USA - Glass House $3
The Boy Bathing, Headlights , Chimney plus Brian Bonz – Tonic $8)
Go to NYNT's Live Archive here.
© New York Night Train , 2006