For this week's New York Night Train show list go here. For information about the venues go here. Click the names in bold to learn more about the artists.
Thudrsday May 18, 2006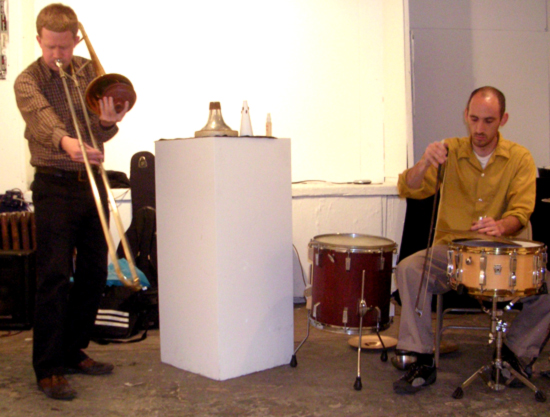 David Dove, Chris Cogburn, Juan Garcia, Maria Chavez – ISSUE Project Room $10
Tonight's show at ISSUE Project Room features the return of the most notorious improvisers in the state of Texas. David Dove and Chis Cogburn, who often play as a duo, are joined by bassist Juan Garcia and turntablist Maria Chavez. Dove and Cogburn, who've performed in New York as a duo a few times in the past, are not only musicians but organizers who are largely responsible for helping create and nurture the state's blooming experimental music scene. Dove, who's the director of the Pauline Oliveros Foundation Houston, has imported dozens of prominent names in contemporary music (Joe McPhee, Susie Ibarra, Peter Brotzman, Eugene Chadbourne, etc.) to Texas since the 1990s - not only for rare live appearances, but to educate inner-city youth in the ways of improvisation. Chris Cogburn, who also wins indie points for his work with Jadek, is the founder of Austin's Creative Music Workshop, has also played with and curated performances by a number of great avant musicians. Juan Garcia lends his bass talents to both the classical and contemporary realms. And Maria Chavez distinguishes herself from other turntablists by experimenting with needles and records in various states of disrepair. A rare treat.
In addition to recommended performances by Ikue Mori, Sisoe Obarra, Min Xiao-Fin, and Okkyung Lee, The Roots, Tom Verlaine, a solo appearance by The Notekiller's killer guitarist David First should also be killer.
ALSO:
Architecture in Helsinki, 33hz – Avalon $17/$18
Art Brut, Art Brut 47, The Chalets, Keith TOTP - Knitting Factory Main Space $16
David First; Leslie Ross – Location One $15
Gal Costa – Blue Note
Ikue Mori – The Stone 10PM $10
Jonathan Kane's February, Downriver – Tonic 10PM $10
KEXP Live Broadcast: Alpha Rev, The Budos Band, Dylan In The Movies, Pablo - Gigantic Studios FREE
Pharaoh's Daughter – Tonic 8PM $10
Scissorfight, Orange Goblin, Capricorns – The Continental
Susie Ibarra, Min Xiao-Fen and Okkyung Lee – The Stone 8PM $10
The Art of the Turkish 'Ud - Munir Nurettin Beken – Symphony Space $25
The Comas, The Big Sleep, The Self Righteous Brothers, Sam Champion - Southpaw $8/$10
The Roots, Talib Kweli, Common – Radio City Music Hall $50/$70
The Woggles, Muck and the Mires, The Babyshakes – Cake Shop $7
Tom Verlaine, Megan Reilly - Bowery Ballroom $25
Go to NYNT's Live Archive here.
© New York Night Train , 2006