For this week's New York Night Train show list go here. For information about the venues go here. Click the names in bold to learn more about the artists.
Wednesday May 24, 2006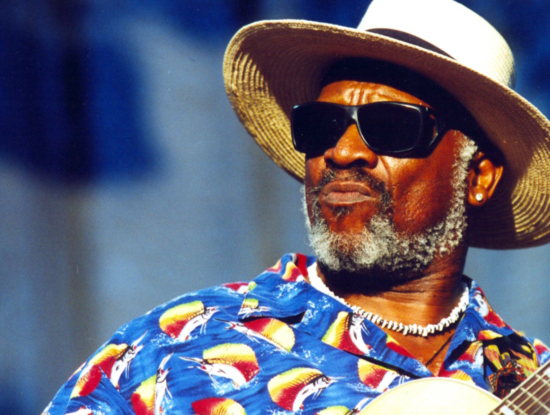 Taj Mahal Trio - Blue Note $35/$45
If you're not one-hundred percent open-minded, the key to listening to Taj Mahal is the cliche "if you don't like the weather, wait a few minutes." If you are one of the rare few, you can sit back and enjoy the ride.
Taj formed the blues rock/folk pop Rising Sons with Ry Cooder in the Los Angeles mid-1960s folk scene and made a breif appearnce on Captain Beefheart's Safe as Milk before going off on his own in 1967. In the beginning, his specialty was playing with the raw essence from the circa 1930 Mississippi masterpieces – from the light fun of the jug bands to the dark loneliness of the rural troubadours. I recently heard his revision of "Walkin' Blues," 1968's "Celebrated Walkin' Blues," for the first time in some time – and it was intense as ever. Oddly he decided to take on this nugget at almost the exact same time as R.L Burnside on his first album, and oldtimers Johnny Shines and Lightinin' Hopkins. Mahal's version, following the long "Walkin' Blues" thread from Son House to Robert Johnson in Mississippi to Chicago within one song, never once finds a contemporary electric blues feel, but makes it unique by adding pentatonic mandolin scales, his powerful howl, and one-of-a-kind sensibility. On the other hand, one listen to his electricified slide-driven arrangement of Blind Willie McTell's "Statesboro Blues" shows you exactly who pointed the way for the Allman Brothers stellar 1971 Live at the Fillmore East version. Despite tough tracks like these, his acoustic instrumental style tends to favor lighter John Hurt-style fingerpicking - particularly on his best known track of the era Henry Thomas' "Fishin' Blues" or on his "Frankie and Albert" - definitely informed by hurts version of "Frankie and Johnny." He fused this Hurt style with pop on songs like "Giant Step" greatly anticipated the mandolin-based folk pop of "Maggie May" and other songs from Rod Stewart's ferst few records. The Memphis bent in some of the tunes is best illustrated by how he blows every other band in The Rolling Stones' Great Rock and Roll Circus away with his heavy soulful take on Sam and Dave's "Ain't That a Lot of Love".
Taj Mahal has been on quite a journey since the holy blues-based trinity of his first three albums – not only exploring earlier American popular and folk genres of the past: rags, cakewalks, and Dixieland, but has also branching out into world music. On that note, it's also important to point out that 1971's Happy Just to Be Like I Am and 1973's Roots found Mahal ahead of the rest of his contemporaries in making a Caribbean-themed album. He's since not only made serious stabs at Hawaiian, Indian, and West African music, but returns to blues every now and again. His trio promises to take you on a condensed version of this journey around the world and through time. You have until Sunday to climb aboard.
MEDIA
Taj Mahal has put dozens of MP3s from all of his albums here.
ALSO:
Angie Eng, Jason Kao Hwang & Yuko Fujiyama – ISSUE Project Room $10
Anthony Burr & Jennifer Reeves – Tonic 8PM $10
Frog Eyes, Sunset Rubdown, Bedroom Walls - Mercury Lounge $12 (sold out)
Laurie Anderson - Joe's Pub $25
Roger Eno with Plumbline – Tonic 10PM $10
Steel Pulse – Irving Plaza $27.50/$30
Stephanie Stone – The Stone 8PM $10
Sylvie Courvoisier – The Stone 10PM $10
The Books - World Financial Center Courtyard Gallery FREE
The Walkmen, Mazarin, Nethers - Webster Hall $20
Tigers & Monkeys, Beat the Devil, The Modern Hour, The Vandelles, Saphin - Sin-e $8
Unsane, Blackfire Revelation - Knitting Factory Main Space $10/$12
Go to NYNT's Live Archive here
© New York Night Train , 2006