NYNT NEWS BLOG
The latest on shows, releases, events, and lotsa whatever...
January 27, 2006
FAYARD NICHOLAS R.I.P.


Fayard Nicholas of the dance duo the Nicholas Brothers passed away at 91 yesterday. If you've seen Stormy Weather (1943) or any of the other documentation of the siblings' routines, you know that their work was creative, adventurous, and breathtakingly acrobatic.
Source:
All About Jazz
January 27, 2006
GRANDADDY SPLITS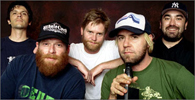 Grandaddy, one of the more interesting major label bands in the last decade or so, has announced their breakup. Their final album Just Like the Fambly Cat will be released on V2 early this yer.
Source:
Pitchfork
January 27, 2006
SPECTOR LAWYERS ATTEMPT TO BLOCK DEPOSITION RELEASE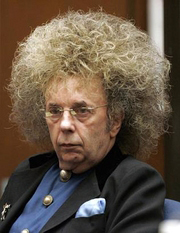 Some of Phil Spector's deposition testimony with his former attorney, Robert Shapiro, will be released to prosecutors in his murder case – against the protests of Spector's team. Would ya look at that hair?
Source:
Mercury News
January 27, 2006
CANADIAN MUSIC CORP FIGHTS THE RIAA
Canada's Nettwerk Music Group is battling the RIAA on behalf of downloaders.
Source:
Alternative Press
January 27, 2006


FEARGUL SHARKEY ASKS GOVT FOR PRACTICE SPACES
Feargal Sharkey of The Undertones, currently chairman of the UK's Live Music Forum, has requested that every city council in England and Wales to convert unused property into rehearsal spaces… And don't forget to put start pressing Brooklyn while you're at it Mr. Sharkey

Source:
BBC
January 27, 2006


DEVO 2.0
Devo co-founder and bassist Gerry Casale has gotten together a new group. Devo 2.0, a band consisting of five adolescents, is on Disney and is set to play Devo in malls all over.
Source:
Billboard


January 27, 2006
JAY-Z TALKS CONFLICT


Jay-Z discusses his reconciliation with Nas and his conflict with Cam'ron.
Source:
MTV
January 27, 2006
NINA SIMONE'S DAUGHTER PLANS TRIBUTE


Nina Simone's daughter, Simone, will be performing at Town Hall on April 21to pay tribute to her mother on the third anniversary of her death. Entitled "Live At Town Hall: A Tribute To Nina Simone's Historic 1959 Town Hall Performance," Simone will appear with Al Schackman and the original Nina Simone Band - performing much of the music from her mother's legendary 1959 concert.
Source:
All About Jazz

January 27, 2006
CONGRESSMAN MARKEY LOOKS INTO PORTABLE MEDIA AND HEARING LOSS
Democratic representative Edward Markey of Massachusetts Democrat asked the National Institutes of Health to look into whether portable listening devices (iPods, etc.) cause hearing loss. Huh?
Source:
Sydney Morning Herald

January 27, 2006


MEGADEATH CHEAP BASTARDS
Megadeth is having an online contest to redesign their mascot – Vic Rattlehead. If you win they give you a guitar.

Source:
Reuters.
January 27, 2006
ICTUS RECORDS THIRTIETH ANNIVERSARY COMPILATION
Ictus Records' is releasing a twelve-CD box set to celebrate its thirtieth anniversary. It will include Steve Lacy, Derek Bailey, John Zorn, and more.
Source:
All About Jazz
January 26, 2006
HAPPY B-DAY KRAKY
Jennifer Krako, formerly of DC food-rock act The Snacks turns 27 today!
January 26, 2006
NICK CAVE WRITES SCREENPLAY
The screenplay for the upcoming Australian Western The Proposition, debuting at the Sundance Film Festival, was written by none-other than Nick Cave. The story is set in 1880s Australia and revolves around the existential dilemma of whether or not a bounty hunter should kill his older brother or see his younger brother hanged.
Source:
BBC
January 26, 2006
THE SENATE LOOKS INTO THE END OF "FAIR USE"
A new MPAA/RIAA-sponsored bill is floating around the Senate attempting to regulate new technology and eliminate "fair use" as we know it forever. This is pretty serious stuff...
Source:
Cybergrass
January 26, 2006
A-HOLE BILL WANTS TO PROBE YOUR COMPUTER
The entertainment industry has proposed the Analog Hole bill - which would require a VEIL watermarking technology detector in any device that converts analog signals to digital (i.e. iPods, PCs, etc.) . So each time a digital recording is attempted, the VEIL watermark would provide information about whether or not the recording will be permitted. I wonder if we should worry…
Source:
Tinfoil.net
January 26, 2006
AHOY! EUROPEAN ANTI-WAREZ STING OPERATION BATTLES PIRATES
This morning, in a joint action by the entertainment industry and local police to thwart piracy, local police and the entertainment industry raided over three-hundred homes and offices to shut down top warez providers. They wound up confiscating twenty servers and making about thirty arrests. The action, by GVU (translated to German Federation Against Copyright Theft), took place in Germany, Austria, Holland, Poland and the Czech Republic.
Source:
Slyck
January 26, 2006
BIXA, JARBOE, AND HOW TO DESTROY THE UNIVERSE
The scattered remains of the old industrial world coalesce tonight in the first date of the How to Destroy the Universe West Coast-only tour. Performers include Blixa Bargeld, The Living Jarboe, F-Space, Red Sparowes, Sixteens, Soriah, Sub Arachnoid Space, The Centemeters Wldteufel, Black Ice, Scott Arford, Synchronicity Frequency, and and, for the Los Angeles show only, a Savage Republic reunion.
Source:
Pitchfork
mobilization.com
January 26, 2006
MOTOWN BUILDING DEMOLISHED
Motown Center in Detroit was demolished yesterday to make room for a Super Bowl parking lot. The label's headquarters took up residency on this spot until it was abandoned in 1972.
Source:
BBC
January 26, 2006
HAIL! HAIL! CHUCK BERRY OUT-TAKES AND EXTRA FOOTAGE
Image Entertainment is releasing a deluxe DVD edition of the Keith Richards-produced Chuck Berry documentary Hail! Hail! Rock 'n' Roll. The collection will be available in both two and four-disc editions with all kinds of new footage. I can't wait…
Source:
Reuters
January 26, 2006
NME LOCATES THE UK'S TOP MUSICAL PRODUCTS OF ALL TIME - EVER
The Stone Roses' 1989 self-titled debut album has been voted the best British album of all time by NME's writers. The top ten also includes Oasis, Arctic Monkeys, and The Libertines. Ane remember, this isn't "of the last fifteen or twenty years" - it's "of all time." Somebody please give these well-respected tastemakers some guidance…
Source:
NME
January 26, 2006
JOHN CALE PRODUCES NEW ALEJANDRO ESCOVEDO RECORD
John Cale just produced the first Alejandro Escovedo solo album since 2000. The record, entitled The Boxing Mirror, is due out on n May 2 on Backporch Records.
Source:
Pitchfork
January 26, 2006
NEW FLAMING LIPS MP3 ONLINE
"The W.A.N.D.," from The Flaming Lips' upcoming album, At War With The Mystics, is now available online.
January 26, 2006
QUASI AND FRIDMANN
The longstanding pop duo Quasi, with Sam Coomes and Sleater-Kinney's Janet Weiss just finished mixing a new record with one of the best producers going, Dave Fridmann. It is entitled When The Going Gets Dark.
Source:
Drowned in Sound
January 26, 2006
GRAM PARSONS EXHIBITION IN HOLLYWOOD
Hollywood's Harmony Gallery just opened a new show consisting exclusively of Graham Parsons photographs. Thanks Matt.
Source:
Reuters
January 26, 2006
CAM'RON V JAY-Z - ROUND 2
In the big rap soap opera that currently features Cam'ron and Jay-Z, Cam'ron staged a press conference at Tribecca Center to publicly share his beef with Jay-Z. He also took the opportunity to show his gun-shot wounds and brag about facing prison for not cooperating with DC police in the case of his shooting. Let's see – a media brawl with the world's top rapper, bullet wounds, and a defiant stance against cops – I see dollar signs in someone's eyes…
Source:
Baller Status
January 26, 2006
VILLAGE PEOPLE COP GET'S TAKEN IN
Victor Willis, the Village People's policeman and lead vocalist is being charged with missing a hearing for drug and gun charges.
Source:
BBC
January 26, 2006
PHILLY RAPPER CONVICTED
Philadelphia rapper Cassidy, AKA Barry Reese, was convicted of involuntary manslaughter and aggravated assault.
Source:
BBC
January 26, 2006
CRU STAR
Congratulations to those of you still holding on to that cheese-metal-is cool-and-ironic-thing – your boys Motley Cru just got their own Hollywood Star.
Source:
Undercover
January 26, 2006
THE KING'S NEW CLOTHES
Michael Jackson was caught publically masquerading in traditional Arab woman's attire. Wearing an abaya and a black veil, Jackson also had his children wear similar dress. But what the hat, they were on their way to a shopping mall in Bahrain. God bless 'im..
Source:
The Advertiser
January 25, 2006
LEGENDS OF JAZZ BACK AFTER FOURTY YEARS
Legends of Jazz was a landmark show that went off the air in the 1960s that will return on American Public Television in April with a Ramsey Lewis special. The first season will include thirteen episodes which will include Tony Bennett, Chick Corea, Al Jarreau, Dave Brubeck, Dr. Billy Taylor, David Sanborn, Phil Woods, Pat Metheny, Jim Hall, George Duke, Marcus Miller, Lee Ritenour, Clark Terry, Roy Hargrove, Chris Botti, Ivan Lins, Eddie Palmieri, Ray Barretto, Dave Valentin, Keb Mo, Robert Cray, Jane Monheit, John Pizzarelli, Kurt Elling, Benny Golson, Chris Potter, Joey DeFrancesco, and Dr. Lonnie Smith. Not adventurous by any means, but certainly legendary.
Source:
All About Jazz
January 25, 2006
AOL LAUNCHES GAY SITE
G-Sides, Music for the GLBT Community, is the new AOL Music site which will feature "the gay and lesbian artists we love." They will also include music that has "a strong 'LGB' fan base.'" The one online now (g-head, look) asks the question, "What do lipstick lesbians, randy rock boys and great danes have in common? They're all turned on by the Strokes' delicious 'Juice Box.'"
Source:
Reuters
January 25, 2006
WEEZER TO PLAY VELVET UNDERGROUND



Can you picture it?
It looks like Weezer will play the Velvet Underground in the new Edie Sedgewick film Factory Girl. Apparently they also re-recorded "Heroine." I guess Leo Dicaprio got to play Jim Carroll – but we didn't have to hear him sing "People Who Died." Pardon me while I get up and barf…
Sources:
Drowned In Sound
NME
Pitchfork
January 25, 2006
TOM WAITS WINS BIG SPANISH CASE
Tom Waits just won a settlement in Spain against Volkswagen-Audi (VAESA) for using his voice and impersonating one of his songs. Commenting on the song in question, "Innocent When You Dream" from Frank's Wild Years, Anti quotes Waits as saying, "Now they understand the words to the song better... It wasn't 'Innocent When You Scheme' it was 'Innocent When You Dream'." Anti claims that this is the first instance that writers and authors' personalities and reputations have been protected in a Spanish court.
January 25, 2006
1989 DR JOHN PERFORMANCE TO RELEASED
The upcoming Dr. John live album Right Place, Right Time: Live At Tipitina's Mardi Gras '89 promises to live up to its title as it was recorded at Tipitina's during Mardi Gras 1989. It will be released on Dr. John's Skinji Brim imprint on March 14.
Source:
All About Jazz
January 25, 2006
THIS HEAT BOX ON THE WAY
This Heat, one of the most interesting bands of the post-punk era, has a new box set on the way to celebrate the thirtieth anniversary of their first show. The Box, as it will be known, will not only contain all five of their LPs plus some bonus material, but also photos, interviews, and memorabilia. Yay!
Sources:
Pitchfork
January 25, 2006
NEW FLAMING LIPS LP
The Flaming Lips have announced the upcoming release of a new album At War With The Mystics due out in April. It's always quite an event - I don't know if any other band has kept my attention for twenty years straight.
Sources:
Drowned In Sound
January 24, 2006
JANETTE CARTER PASSES AWAY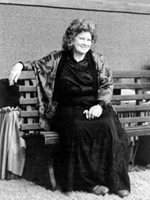 I wisth that less of the news had to be bad news - but Janette Carter, the last surviving child of The Carter Family died on Sunday at the age of 82. The daughter of AP and Sarah Carter, Jannette continued to keep their legacy alive by performing Carter Family songs live up until her death at The Carter Fold (The Carter Family Music Center) in Hilton, VA. This marks the end of an era.
News and Obits:
Detroit Free Press
Yahoo News
Carter Family Fold
About Janette:
American Profile
About The Carter Family:
Wikipedia profile
January 24, 2006
SXSW ANNOUNCES MOST RECENT LINE-UP
South by Southwest has posted the first 1000 bands for their line-up in March and thusfar it looks like a who's who of everything. You can also look for NYNT associates Vietnam, Cause for Applause, Viva l'American Death Ray Music, and Kid Congo and the Pink Monkey Birds. Go here for the complete list.
January 23, 2006
SCOTT WALKER IS BACK!
Scott Walker is making his first new record since 1995's beautiful and unusual Tilt. It's to be called The Drift.
Source: NME
January 23, 2006
JIMMY SCOTT (NO WALKER) IS BACK
Jazz crooner Jimmy Scott's doing a week at the Iridium and a few other dates! He's eighty-years-old and still going strong - and one of the top vocal stylists of all time to boot. Tickets just went on sale.
Source: Brooklyn Vegan
January 21, 2006
BOB WEINSTOCK PASSED AWAY AT 77
Billboard announced yesterday that Bob Weinstock, the owner of Prestige records died last week at the age of 1977. Weinstock and his indie label provided America with some of its most significant cultural treasures. Prestige of course was the label responsible for putting out so much of those great Monk, Coltrane, and Miles records - heck, they even released a little bit of Moondog. You should read up a bit more on this impotant man and his amazing record label.
Sources:
NPR 12/21
Reuters 12/20
All About Jazz 12/18
January 20, 2006
WILSON PICKETT PASSES AWAY AT 64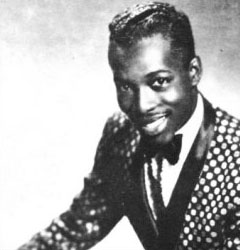 It is with great sadness that I inform those of you that don't know that the very "Wicked" Wilson Pickett passed away yesterday. With out a doubt one of the A-list soul men of all-time, Mr. Pickett will obviously live in all of our hearts, jukeboxes, and dance floors for a long time to come. While many of you are perhaps familiar with his work at Muscle Shoals, you also should check out his doo-wop-y R&B band - who are also occasionally credited with the first "soul" record (whatever that means - I made the first rock'n'roll record - dontcha know?), The Falcons - because they really smoked. Wilson might just become the first wicked man in heaven and will be missed. Here're some obits:
Chicago Tribune
The Guardian UK
The Independent UK
Los Angeles Times
New York Times
Washington Post
January 20, 2006
GRIS GRIS HITS THE ROAD
Gris Gris, one of the best psychedelic bands going, is hitting the road! Anyone who's seen 'em live knows this is a cause for mind-melting celebration. They're also not so bad in the studio. You can read NYNT's review by Vietnam's Ivan Sunshine here. It looks like they're going everywhere - including SXSW. You can keep up with 'em via their tour diary. Watch out!
Source article:Filter
January 20, 2006
NEW MAKE-UP LIVE RECORD!
More good news - Make-Up are releasing a live album. Recorded at an old Black Cat show, the album will be titled Untouchable Sound - Live!. It should show up on Sea Note/Drag City at the end of February. If you haven't you definitely need to check out Ian and Michelle's current group Weird War.
Source: Drowned in Sound
January 20, 2006
HEARTBEAT RECORDS TO RELEASE A NEW STUDIO ONE SERIES
On January 24, Heartbeat is kicking off a series of comprehensive Studio one tracks. Studio One owner Clement S. "Coxsone" Dodd was running a record store and distribution business out of Brooklyn until his death last year. The first issues are The Best of Studio One, Full Up: More Hits from Studio One, and Downbeat the Ruler: Killer Instrumentals from Studio One. Then, on February 14, Bob Marley and the Wailers, One Love at Studio One. The label is going to keep 'em coming regularly and that can only mean a better world in general. Do ya feel fortunate?
Source: Global Rhythm
© New York Night Train , 2006