NYNT NEWS
The latest on shows, releases, events, and lotsa whatever...
02/01/06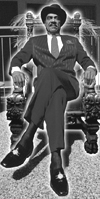 Sadies say Andre Williams is missing
The Sadies are thusfar unable to find blue r&b singer Andre Williams. One should be concerned because the man lives hard for his age. Let's hope he's just tucked away somewhere doin' the bacon fat and getting passed the biscuits. If anyone knows the whereabouts of Mr. Williams, will you please contact The Sadies - he never calls – they worry…
More:
Chart Attack
02/01/06


The heirs of Hank Williams win control of radio performances
Hank Williams' heirs just beat the Legacy Entertainment Group and Polygram Records in a battle for control over their dad's radio performances. Maybe Bocephus'll share those recordings with the rest of us?
More:
Reuters
02/01/06


Sherman Ferguson passes away at 61
Jazz drummer/academic Sherman Ferguson died last week from diabetes complications at 61. A professor at UCLA's Jazz Studies Program, Ferguson drummed with Dizzy Gillespie, Kenny Burrell, Benny Carter, Horace Silver, Ahmad Jamal, Freddie Hubbard, Bud Shank, Eddie Harris, Jimmy Smith, Buddy Collette, Joe Williams, Joe Henderson, Tommy Flanagan, Pharoah Sanders, Gabor Szabo, Sonny Stitt, George Shearing, and many more – appearing on over eighty recordings
More:
All About Jazz
02/01/06


Boy George on trial
Every article says Boy George is on trial for possessing 13 bags of cocaine. My question is, bags or baggies?
02/01/06


The Game's Manager Found Guilty of DJ Assault
Jimmy Henchman, who manages The Game, was convicted yesterday of assaulting a Maryland disc jockey. Game, who was also charged, was cleared.
More:
All Hip Hop
Baller Status
02/01/06


Aretha Franklin slams Super Bowl
Aretha Franklin was rightly bummed that the Super Bowl will feature little involving Detroit's musical heritage during the entertainment. Later she sadly apologized.
More:
Newsday
Newsday (Apology)
02/01/06


Devo's Gerald V. Casale new solo project
Gerald V. Casale from Devo has a new solo progect called Jihad Jerry and the Evildoers.
More:
Billboard
02/01/06


A musical tribute to Coretta Scott King
On NPR you can hear the Atlanta Symphony Orchestra and the glee clubs of Morehouse and Spelman colleges perform Lift Every Voice and Sing" in honor of the memory of Coretta Scott King.
More:
NPR
02/01/06
Bay Area's New Hip-Hop Churches
It was just a matter of time. Hip-hop is displacing gospel in churches from San Jose to Oakland.
More:
SF Gate
02/01/06
Classical music – it ain''t just for squares anymore
New York Times Looks at classical music downtown and in Williamsburg
More:
New York Times
© New York Night Train , 2006