Black Dice
Gang Gang Dance
Bill Cosby and His White Pudding Pops
Sat, Jan 28
Syrup Room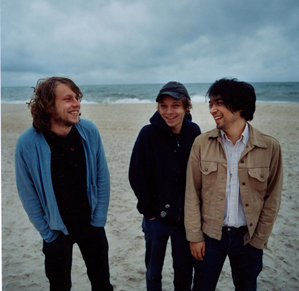 Black Dice on an urban parkbench.
Because these bands are both so renown, it is difficult to call this show an adventure pick in its usual connotation. However, this will be New York Night Train's adventure pick because both units are willing to deeply delve spaces that most bands don't even have the balls or imagination to even peek into – and you, their audience also don't know exactly what you're going to get.
Black Dice have been putting out records and touring non-stop for (has it been?) more than five or six years now, and, for those of you who haven't caught up with them for a while, went from a post-hardcore sort of thing to a sort of Death Disco thing and, for the last couple of years, have been finding a unique voice as they reach into more abstract territory. Their last couple of records, Broken Ear Record and Creature Comforts, are among the best albums of the last few years. And, don't worry, you can probably get up close now as they've calmed down and aren't likely to tackle you or throw stuff or whatever.
\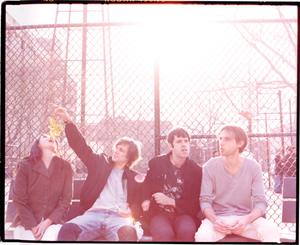 Gang Gang Dance at the beach
It seems like months since the last Gang Gang Dance local show - I know because I've been waiting. Not to keep gushing, but Gang Gang Dance is one of the most original things around. A critic's nightmare and a listener's wet dream, this fearsome Brooklyn foursome seem to encapsulate everything but not sound like anything– and I mean that as the highest compliment. Hypnotic, deep, soulful, enigmatic, groove-laden, weird, beautiful, musically rich…
As for Bill Cosby and His White Pudding Pops, I have no idea. I only know they have the best new name I've heard in at least two days. As for Syrup Room, it's a new venue in East Williamsburg Industrial Park. You can get tickets at Eat Records and for more details, go to Todd P's website. See ya in Bushwick.
© New York Night Train , 2005