Glenn Branca
Hallucination City: Symphony 13 for 100 Guitars
Fri, Feb 4
Alexander Kasser Theater - Montclaire State University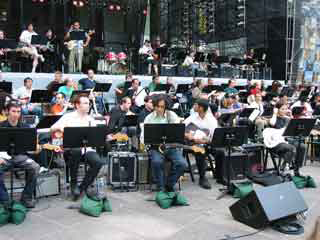 Hallucination City: Symphony 13 for 100 Guitars at the World Trade Center, 2001

If I had to pick only one show this week... it would be Glenn Branca's Hallucination City: Symphony 13 for 100 Guitars on Friday, February 4 at Montclaire State University's Alexander Kasser Theater. Imagine the sound of one hundred electric guitars at the same time. And, if Branca's still using the same techniques – one hundred heavily amplified guitars. I've heard a studio recording of Hallucination City but still can't fathom it.
The piece was originally written for the millennium celebration in Paris for two thousand guitars. After it imploded, Branca pared it down to one hundred and performed the piece at the World Trade Center in June 2001. Technically the orchestra includes eighty guitars, twenty basses, and a drummer. In 2004 he got the money together to record it. Now, almost two years later, he's finally performing it again - once on Friday and once in May in Los Angeles. So this is a rare opportunity to witness something that you just don't see every day.
GlennBranca has done as much as anybody to understand the unusual powers harnessed within the electric guitar. His microtonal compositions have taken full advantage of the sound of the strings (alone, detuned, when tapped, or with objects against them), the body, the pickups, the speakers, everything… And somehow he's managed to organize these sounds into something not only coherent but of profound beauty. Many of the principles that you've seen Sonic Youth apply to guitars originally came from this source.
GlennBranca's journey with electric guitar ensembles was already underway when he was in the seminal no wave band Theoretical Girls (a few would even argue that Theoretical girls fathered the no wave scene) and Static. He recorded his first guitar symphony, Lesson No. 1 in 1980. By this point Thurston Moore and Lee Renaldo were already in the group and remained during the early years of Sonic Youth (a couple of the better Branca works feature the two guitarists: Symphony No. 1, Tonal Plexus, and Symphony Number 3, Gloria - both from 1983). In the twenty-plus years since, Branca has become fully legit – with prestigious symphony orchestras around the world playing his pieces.
So here's your chance – and geography isn't much of an excuse. Montclaire State University is only seventeen miles outside of the city and is an easy drive. For the rest of us, there's the Montclair-Boonton train or the DeCamp Bus No. 66. Both run from Penn Station all the way to the university.
Go here for ticket information:

And here for directions:

© New York Night Train , 2005