DR. ISRAEL
INNA CITY PRESSURE
ROIR 2005 (orig. 1998)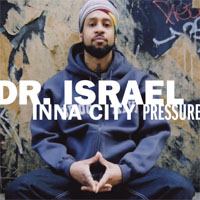 Dr. Israel's contemporary classic Inna City Pressure has just been re-released, remastered, and expanded by ROIR. The LP made a huge splash in 1998 – receiving an obscene consensus of critical praise and selling over ten-thousand copies before Israel's label went out of business. Despite appearances by Rancid, and a few nods to the popular Jungle genre of the time, the record still holds up seven years later.
Inna City Pressure is a concept album of sorts in finds Brooklyn's good Dr. singing about urban problems, discussing social issues, espousing conspiracy theory ("FBI shot Malcolm dead"), and calling for revolution. Overall the message is positive as Israel continues to reiterate that he will transcend Babylon. That is, he will not let the troubles of inna city life defeat him or his quest for Israel.
Along the way from the a cappella intro ("Inna-city got me down again – between the gangsta, police, and poli-ti-ician") to the bonus tracks, Dr. Israel takes the listener a voyage through a variety of moods and genres. Both the juxtaposition and the fusion of elements help reinforce themes of chaos and diversity in the city. The disparate forms are united by the punctuation of super-fat bass and drum tones. The explorations of various rock and dance styles keep everything interesting but the whole retains an aesthitc continuity under an ever-present ragga/dub union. While I'm not sure how to label this cosmopolitan fusion, let's just say its Jamaican-based and does what much of the best dub does anyway – throws a bunch of unlikely elements together and makes 'em work (and makes 'em shake and makes 'em echo).
There are a number of standouts. "Pressure" is a roots n'techno fusion. Israel's baritone is as smooth as the production, the beat is super fast n'phoney, and there're all kinds of synths and other elements poppin' in and out. "The Dr. Vs. The Wizard" is Israel taking on Black Sabbath's "The Wizard." – and pulling it off surprisingly well – if P. Diddy could take a lesson here in how to appropriate a classic.... While basic riff and harmonica remain in-tact., sub-sonic bass and chaotic rhythm takes over. "Armagideon Time" is a revison of The Clash's take on the Willie Williams original. "Survivor," and "Revolution, like Armagideon Time," are awesome contemporary takes on dub. "Coppers (Brooklyn Version)" features a couple of Rancid dudes. "Crisis" is a lot like Primal Scream's wilder forays into techno - if they had the vocals of Gibby Haynes from the Butthole Surfers circa Psychic Powerless and a lot more butt.
There's not a weak number on here and the whole shebang works really well as a whole. And the new coat of mastering sounds terrific.
So if you missed out on this one the first time, and you've been seeking out some lively millennial Jamaican bounce straight outta Brooklyn, Inna City Pressure may be the right drug for you.
© New York Night Train , 2005