Excepter
Sunbomber
5 Rue Christine 2006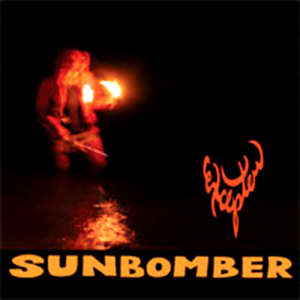 Excepter is one of those bands that, if you're familiar at all, you either love or hate. I can safely say that most of my friends can't stand them – but judging by the amount of folks willing to put out their records and give 'em nice reviews, there must be a few more like myself who think that Excepter is one of the more interesting things going. If you don't believe me, go through their discography and check out the quantity, variety, and depth of their experiments. If you're a beginner you may want to start with my personal fave, 2003's gravity-free 12" dance marathon on Mars gone awry, Vacation (also included on the KA CD).
A lot has changed since then – both in terms of personnel and approach. Excepter's latest, Sunbomber, once again offers a collage of captivating sounds thrown together with both daring adventurism and purposefulness. Continuing on the electronic improv path, John Fell Ryan and gang offer a more fractured, chaotic, dissonant, and, overall, difficult listen than ever before. While you'll have a harder time dancing to it, you're brain will still feel funny. Excepter's greatest asset lies in successful juxtaposition of the improbable. In little instances throughout the record, after awkwardly bouncing against one another, the incongruent mechanical shapes and forms locate tiny epiphanies when they impossibly lock together harmonically and groove-wise and fit like mismatched lovers in bed. And there's an overall mystical post-catastrophic tribal vibe humming through the circuits.
Ryan's new vocal style is the one preventing me from loving this record. It's a sort of grunty old drunken homeless man murmuring on the street voice. It wins points for being unlike anything you've heard before on record but loses them for being one hundred percent unappealing. Just like listening to Led Zepplin, I sometimes find myself subconsciously trying to push the vocals out of the mix. But I've resolved to just look at them as the shamanistic chants necessary to this robotic ritual.
Regardless, a very captivating, soulful, and worthwhile listen.
Where to next?
MEDIA:
Dawn Patrol MP3
© New York Night Train , 2006